Last fall, more than 100 women set out to discover the answer to that question at Camp Cedar Falls at the 37th annual Southern California Conference Women's Ministries fall retreat. 
Dimple Fields, SCC Women's Ministries liaison, remembered the instance that inspired the retreat's theme. During a meeting, Sunland-Tujunga church Pastor Mabel Duncan was praying over the submitted prayer requests and the upcoming retreat. She had prayed "that each person would have an encounter with Him," Fields recalled. "After that prayer, I said, 'Praise God for Pastor Mabel Duncan. We just got our theme for the retreat!'"
SCC Women's Ministries Director Beverley Martin kicked off the retreat on Friday evening. Sabbath morning, Claudio and Pamela Consuegra, director and associate director of NAD Family Ministries, dealt with the topic of abuse. NAD Women's Ministries Director Carla Baker spoke for the Sabbath worship service. Pacific Union Conference Women's Ministries Director Dorothy Means closed out the retreat on Sunday. "The speakers each brought their unique perspective on encountering God, having Him as part of our day-to-day life, and encountering Him in a relationship," said Martin.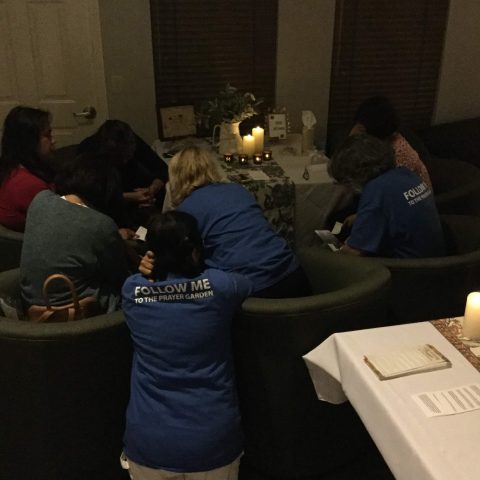 In addition to the presenters, the retreat offered women further opportunities to connect. "The prayer ministry was awesome," Fields said. Prayer counselors hosted stations for specific prayer requests, including family, finances, and a deeper walk with God. Morning prayer walks also gave the women the opportunity to greet the day with singing and praise for the Lord.
"The morning devotionals were definitely the highlight for me," said Sarah Grover, Lancaster church associate pastor. After singing together and hearing a short devotional shared by Grover, the women claimed Bible promises for one another. "Walking up there in the early morning hours, there was a sense of peace and renewal I had been seeking that weekend. It was beautiful, and the time went by too quickly," said Grover.
Every aspect of the retreat was focused on allowing women to have an encounter with God—the messages, the prayer time, the songs, the fellowship, and more. "They didn't leave the retreat the way they came," noted Fields.
Much planning preceded this event. Still, it was ultimately the work of God's Spirit that left the women transformed. "You can do the planning, but when God shows up and honors your work, it's really awesome," Martin said. "The women came hungry, and the Lord did not disappoint them."
Save the date for next year's retreat: Oct. 5-7, 2018, at Camp Cedar Falls.