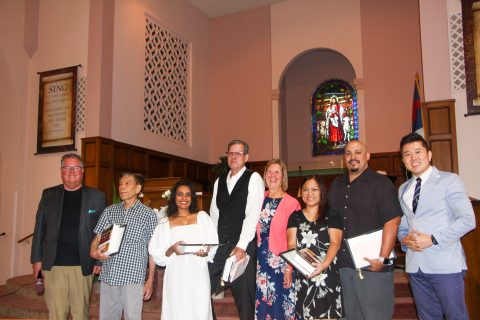 The unique stories of five individuals all converged on one day this August in a special baptism event, as Van Nuys church welcomed five new members into the faith. Over the course of a few months, Ron Park, pastor of the Van Nuys church, studied the Bible individually with each baptismal candidate via Zoom and in person.
Michael corresponded with Cindy, who lives in Texas and works with prison ministries, for 10 years while he was incarcerated. When he was released in Van Nuys, Cindy facilitated connecting Michael with Park, who began studying with him.
Celin never set foot in a church. Then one day, he found Adventist TV programs, such as 3ABN, Hope Channel, and Amazing Facts. Since his first visit to Van Nuys church, he has attended consistently and participated in various church activities. Just a few weeks after visiting, he began studies with Park.
Hasitha showed up at the church with her stepmother last March after coming across the Sabbath message and looking for an Adventist church. The young adults of the church immediately embraced her. She later began a few months of studies with Park.
Rachelle was introduced to the Adventist message by her husband, James. After about a year of attending the church, she expressed her desire to be baptized and began studies with Park.
Yohan's relative, John, has been attending Van Nuys church for years. Yohan studied the Bible with John and expressed his desire to be baptized before also studying with Park.
As the studies each ended within a few weeks of each other, Park began to contemplate how they could all be baptized together. Upon learning that Cindy, who did correspondence study with Michael, would be in town that weekend, everything fell into place.
"The church went through difficult times for the last couple years due to COVID and conflicts in the church," shared Park. "Faithful members had been discouraged by various challenges. Then they saw how God worked in different people's lives even in those dark times, and it was very encouraging to them. Now they are very motivated to be involved in ministries."
These five new members are already involved in different ways, including collecting offerings, giving announcements, serving as greeters, and more.
"Now we offer Adventist 101 class for those newly baptized members as well as the newcomers who would be interested in getting to know our church," Park shared. "For 10 weeks, we teach topics including, 'Who are Seventh-day Adventists?' 'Salvation Through Jesus Christ Alone,' 'Sabbath,' 'A Historical Look at the SDA Church,' 'Belief in Action,' and many more."