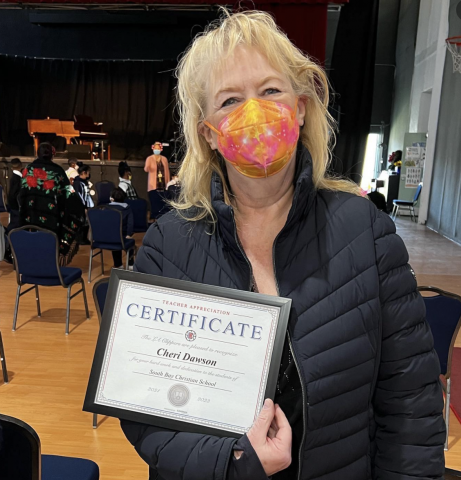 Cheri Dawson, third grade teacher at South Bay Christian School (SBCS) and passionate lifelong reader, was honored at the L.A. Clippers Teacher Appreciation Night, February 17.
Dawson was one of seven teachers recognized that night. Before the game started, the group was invited to the floor, where they each were announced and given a plaque. Dawson received four floor-seat tickets and an additional 20 tickets for friends and family to celebrate with.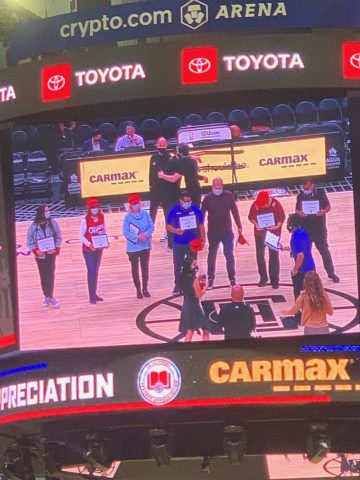 This honor acknowledged her dedication to helping her students find joy in reading.
"Mrs. Cheri Dawson is excellent in motivating her third-graders to excel in reading," said Deborah Dahl, SBCS principal who nominated Dawson for this honor. "She not only inspires them to become avid readers, but she also instills in them a love for reading."
"From my viewpoint, Kindergarten, first-, and second-grade teachers have a hard time getting the kids reading," Dawson said. "When they come to me, my job is to take these new readers and create in them the love of reading."
Dawson achieves this by introducing her students to different genres, topics, and alternate reading formats such as audiobooks. Audiobooks have been a great way for Dawson to introduce a new book series to her class. Every day, Dawson will either read aloud or play an audiobook from her large classroom library while students work on their independent activities, like handwriting.
"The more you read, the better reader you become," Dawson added. "When you see the growth, when you see the lightbulb come on, that's what motivates me."