In early August, The Place Adventist Fellowship church returned from a mission trip to central Zambia, organized by Maranatha Volunteers International, during which they constructed a church building for the Kakole congregation in Chibombo village. The thatched roof and mud floor of the previous makeshift structure offered little protection from the heat, insects, and noise that plagued Kakole worshippers. Volunteers from The Place—10 kids and 11 adults—felt called to remedy the situation but were uncertain of their ability to construct a church building within a couple of weeks.
"We were scared that we might not be able to accomplish what we needed to," admitted Urijah Saenz, assistant in pastoral care at The Place and group leader for the mission trip. But the team worked hard, and the child volunteers brought youthful energy to the project's physically demanding tasks. "We actually finished our project a day early," said Saenz. "That was a big surprise and a blessing for us."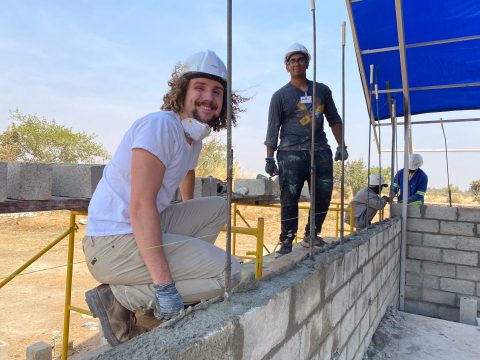 Manual labor dedicated to benefiting others was a rallying point for this passionate group. Each night, volunteers took turns leading out in worship services that further fostered an uplifting environment and spiritual discussions.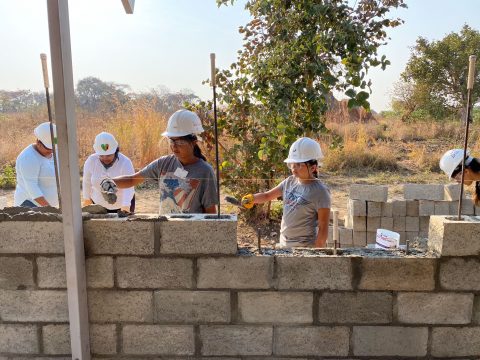 Members of The Place enjoyed the chance to bond with those they served, and they were thrilled to engage with community members who visited the construction site. They played improvised games with numerous child visitors and went out of their way to greet and interact with their adult guests. "I think it would be close to a pointless mission trip if you don't connect with the people you're serving," shared Saenz. "Connecting with those people was the biggest highlight of the whole trip."
Organizing an international mission trip takes a lot of work. Maranatha, which specializes in short-term mission trips, offered support throughout the entire process. First, The Place was matched with one of Maranatha's project locations that could accommodate their group size and schedule. Next, Maranatha advised trip leaders on every aspect of project planning, from developing budgets to choosing safe and comfortable lodging. Then, volunteers had access to Maranatha's in-country staff for additional support while in Zambia. The Place has gone on mission trips through Maranatha for 13 years and found a deep appreciation for the relational connection that mission work fosters.
"Going on mission trips for my church is something that is really bonding and connecting for our community," Saenz said.