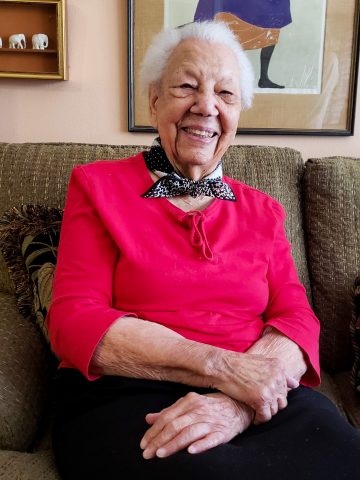 On Jan. 1, 2019, Anita J. Mackey, celebrated her 105th birthday—a significant milestone for the distinguished, generous woman who loves her Lord, her church, and her friends.
Born in Riverside, Calif., as one of eight children, Mackey lost her mother at the age of 10 and was raised by her father, a descendant of United States President Andrew Johnson. Of European and African-American heritage, Mackey was subjected to racism and prejudice from her earliest years. Yet nothing deterred her. "My father always taught us you can overcome anything if you trust in the Lord," she said.
At age 23, Mackey joined the Adventist church and, more than 80 years later, is still an active member of the Vallejo Drive church in Glendale. She received her early education in California, earning a bachelor's degree from the University of Redlands in 1937. She earned her master's degree from the School of Social Service Administration at the University of Chicago in 1941.
Before attending graduate school, she accepted a teaching position in an elementary school soon after her marriage in 1937 to Harvey A. Mackey, a Chicago postal worker and son of an emancipated slave.
As a licensed clinical social worker, she worked for the Veteran's Administration for 30 years in three cities: Chicago, as the first African-American supervisor in social service; Los Angeles, as the first African- American supervisor there; and Santa Barbara, as administrator of the Social Work Service Office. She also taught at various colleges and universities.
Mackey, who lives at Scholl Canyon Estates in Glendale, is proud of her Adventist heritage. "Faith is everything," she said. "We have a wonderful message. I love the progressiveness of Adventist young people; they have a goal in life! I've always said, 'You can't be a true Adventist and be a nobody' because your life—the way you eat, the way you dress, the way you talk, your education, all of it—reflects immediately who you are."
Gwendolyn Collins, longtime friend and fellow resident of Scholl Canyon until 2017, attended Vallejo Drive church with Mackey each Sabbath. "She's always relied on God for wisdom, especially in dealing with the veterans she worked with for so many years," Collins said. "Anita is a strong, independent woman. She's an extremely generous person, as well."
Jim Brown, president of Western Adventist Foundation, has known Mackey since 1999. "She's a very intelligent, interesting, and dignified woman," he said. "She has spent so many years assisting individuals through her career in social work, and it has been a joy for me to be able to assist Anita."
Mackey has traveled extensively, visiting all seven continents and more than 130 countries and islands. Wherever she went, wherever she worked through the years, "I was not only representing myself, but the faith I believed in," she said. Happy 105th birthday, Anita. May God continue to bless you in the year ahead!