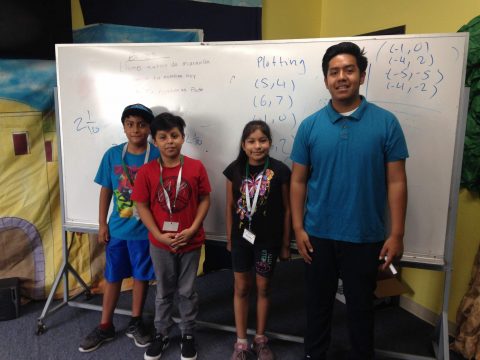 In July, the Spanish American church in East Los Angeles held its second annual Math Academy tutoring program. "We had great success last year," said Mario Melendez, Spanish American church community services director. "We are the only program of this kind in the community, and 35 children from grades 1-9 attended this summer. Twenty of the 35 kids were from the community."
The program is sponsored by the Brighton Foundation, which pays for the cost of the tutors. Seven tutors were supported by the program this year—all of them college students or graduates of a four-year university. An additional nine high school students volunteered. "I'm so glad I can help them. I love math!" said Angel Orduno, grades 8-9 tutor.
Excitement and the love of learning were in the air as the Sabbath School classrooms were transformed into math labs, with erasable mini whiteboards for the individual students and giant whiteboards for the students to work out problems as a group. "I'm learning to convert fractions into decimals," said Jesenia, an eighth grader from White Memorial Adventist School.
The fifth and sixth grade class studied pre-algebra under the expert tutelage of Tlaloc Castaineda, a high school senior. "What I like best is that I get to spend time with the kids," he said. "It helps me review math and try new things. It's helping me evolve as a person."
The busy first grade class shouted out answers as they clustered around their tutors at round tables. "They keep us young," said Jonathan Melendez, one of their tutors.
The classes were held Monday through Thursday from 9 a.m. to 1 p.m. Morning devotional time, healthy snacks, outdoor play time, and delicious hot lunches served to the students were a few of the highlights of the program. "Kids enjoyed coming to the Math Academy daily because we offered games, prizes, food, recreation activities, and singing mixed in with math learning skills," said Melendez.
On Sabbath, July 28, a special graduation ceremony was held for the graduates of the Math Academy. "Twenty-five of the 35 kids showed up for the graduation and brought their parents," Melendez said. "They sang two songs for church, and after the sermon, students, tutors, volunteers, and parents enjoyed a delicious potluck!"
Smart tutors + eager students + committed volunteers + happy parents = a successful outreach for the Spanish American church!