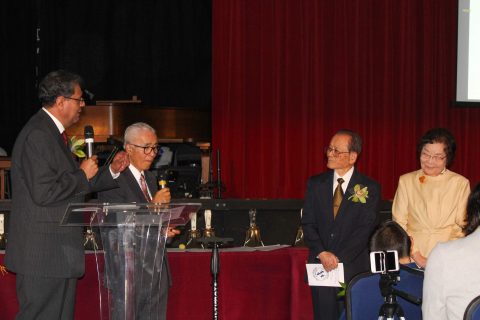 On Nov. 17, students, families, staff, alumni, and friends gathered at South Bay Junior Academy in Torrance to celebrate 50 years of Christian education at Saniku East-West Language School, often referred to as Tozai. 
The school provides supplemental classes for students in kindergarten through ninth grade whose families want them to receive a Japanese education in addition to the education they receive at American schools. The school originally started as an outreach ministry of the Gardena church's Japanese department. "Fifty years ago, You called a group of men and women, from the east to the west, to proclaim God's message to the people here in Southern California," prayed Ataru Nakagawa, pastor at the Gardena Japanese-American church, during the service.
The program was filled with history, reflecting back on the school's founding in 1968 by a dedicated couple, Akira and Taeko Nakamura, who were in attendance at the anniversary celebration. The school has since grown to three campuses: Gardena, Costa Mesa, and Rolling Hills.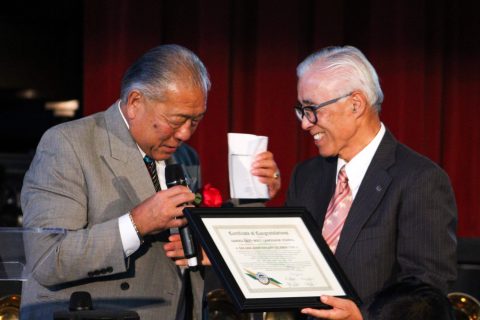 "To establish a school is not an easy task," said Southern California Conference President Velino A. Salazar, addressing the founders. "Not just students are needed, but also vision, perseverance, patience, hard work, and excellence. You demonstrated this, and we are grateful. We are praising God for you."
Hiroki Matsuo, deputy consul general of Japan, pointed out the farreaching significance of the school— the bridge it represents between east and west, Japan and America. He confirmed that students who return to Japan bring a good report after receiving education at Tozai.
Current students and recent graduates expressed their appreciation for all that the school has done for them. Upon returning to Japan, students felt more prepared than their peers as a result of their experience at Tozai. Alumna Tomohiro Matsukuma expressed the importance of the school's cultural impact, sharing that "bicultural" is a much broader concept than "bilingual."
City and county officials who were not able to be present sent letters of commendation. The mayors of both Irvine and Fountain Valley expressed their congratulations, as did Los Angeles County Supervisor Janice Hahn, who sent a certificate of congratulations on behalf of the county.
Ann Rosch was former head of the school's parent association. "I recognize the passion and hard work of teachers now and then, as they aimed and hoped high for our children's education," she said.
Board chairman Winston Dennis recognized Headmaster Chris Ishii, pointing out his insight and leadership, and Rodney Tanaka, representative from the Gardena mayor's office, presented a certificate of congratulations to Ishii. "Unfortunately, I never attended," Tanaka said with a chuckle. "I should have!"