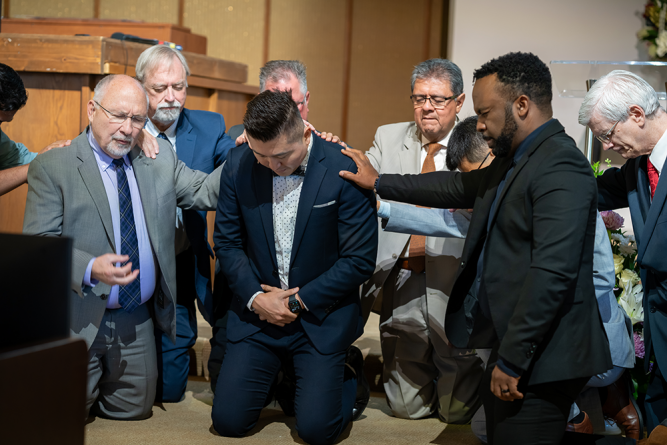 The sanctuary of the Santa Clarita church was full for the ordination of Ron Park, Santa Clarita church pastor, this summer. The service was filled with powerful music and expressions of encouragement. Park recognized members of his family watching the service both in person as well as livestreamed from Korea. Southern California Conference (SCC) and Pacific Union Conference leadership participated in the program, affirming his call.
Greg Hoenes, SCC West Region director, presented Park for ordination. "I praise God that he's brought Ron through these trials and tribulations and made him strong, capable, and clear," Hoenes said. "I'm proud of the person I know who has taken this journey and who stands today to take this step and commitment to God and the church before you all."
For Park, the call to become a pastor was instilled in him by his mother. "She dedicated me to be a pastor," he said. "Throughout my upbringing, I was repeatedly told I would become a pastor." Though he faced moments of uncertainty, he ultimately studied the Bible for himself. Park has various ministry experiences, from summer canvassing to youth pastor to missionary teacher. He served for six years as the pastor at Van Nuys church before serving at Santa Clarita.
"My personal experience is not like a miraculous encounter like with the Apostle Paul, but rather a gradual unfolding of His presence in my life," Park said. "I realized that in the wilderness, that's the place that you really see how God is working in your life because there's nothing else you can rely on. That's been my journey."
Watch at https://scc.adventist.org/ron-park-ordination.
Watch the video highlight below: