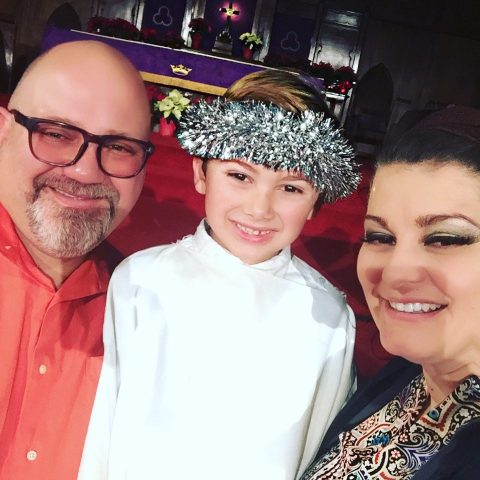 A couple years ago, Todd and Connie Jeffrey were looking for the right church. They wanted a community that would provide them with spiritual growth and, most importantly, a spiritual foundation for their son Todd Jr., known as T2.
Todd came from a mainstream Christian background and Connie from a Catholic family. They had tried several different churches; however, none had been the place they were looking for. When the time came for T2 to start kindergarten, Todd and Connie looked for a Christian school.
In their search, they found the website for the West Covina Hills Seventh-day Adventist School. When they contacted the school, they were invited to visit the kindergarten class. Since the end of the school year was approaching, kindergarten teacher Patty Inouye invited them to attend the graduation night. Todd and Connie were amazed by the songs, the kids speaking in public and reciting Bible texts by memory, the atmosphere—everything. "It was exactly what we wanted for our son," said Connie.
Todd and Connie knew the school was making an impact in T2's heart. What they did not know was the depth of that impact. Just a few weeks after school started, the family suffered the loss of a grandmother. During the entire memorial and funeral ceremonies, T2 did not seem to be sad. His unexpected response worried Connie. "I did not know if he wasn't sad or if he did not understand what was going on," she said. She asked T2 about it. His response took Todd and Connie by surprise. "Mom," T2 said, "I'm not sad because Jesus said we are going to be with Him in heaven." Then he quoted John 14:1-4.
It wasn't long before the Jeffreys met some parents of students who attended the West Covina Hills church. Soon, friendships were formed. One of the things that was different from their non-Adventist friends was the consistency of character. They couldn't help but notice that the Christian values that were taught at school were confirmed at the church. "Most importantly, we discovered that the people lived the same values in church and outside," Connie said. "We were impressed about the fun we could have with our new friends without alcohol." Their experience moved them to become more involved not just in the school, but also in the church.
Todd and Connie began Bible studies with Inouye. "At first, they wanted something good for their son," said Inouye. "Later, they wanted the same Jesus experience for them, too."
The day they were baptized into the West Covina Hills church family by Pastor Rogelio Paquini, as they affirmed their commitment to make Jesus their Savior, T2 shared a memory text with the congregation expressing the promise of God for his family. Today, the Jeffreys are passionately serving the school and church ministry.