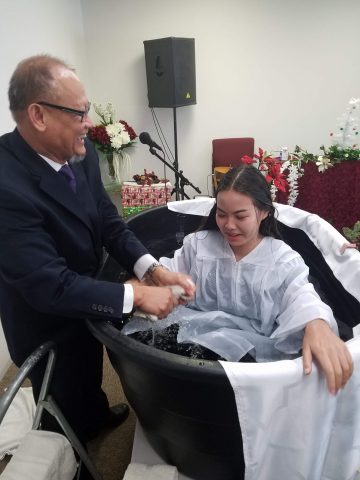 The Sua Sdei (Welcome) Center, Cambodian Seventh-day Adventist center of influence, has been serving Cambodian populations in Long Beach since 2015, supported by the Pacific Union Conference and Southern California Conference.

During the past three years, the Center has been actively reaching out and introducing the community to Jesus in a variety of ways. Through these efforts, the Lord reunited one family in which the husband had stopped attending church for quite some time. Last year, Mr. Korn Men had visited the Center for the first time during a Cambodian New Year celebration. Since then, he continues to attend with his wife, who has been a long-time member. On Sabbath, December 30, 2017, Mr. Korn Men confirmed his profession of faith.

On that same Sabbath, the Center also celebrated a baptism of a young person who has been a great help at Sua Sdei Center, Angelina, age 14. She has been helping the Center with technical inquiries including PowerPoint, ProPresenter 6, and the sound system since age 12. While assisting Pastor Dok, she was studying in Bible classes and expressed her desire to get baptized.

One Sabbath, in the middle of children's worship, she was asked to read the story in Acts 8 about the Ethiopian Eunuch. As she began to read verses 38 and 39, she stopped reading and bluntly asked, "Why can't I get baptized here at the Center?" "It was somehow surprising and joyful at the same time!" Pastor Dok recalls. "It was surprising because of how serious her question was and joyful because we witnessed the presence of the Holy Spirit working in the life of this young girl. We thank the Lord for the ability to witness such a change! That was going to be our very first baptism at the center!"

"Even though our rented building was not equipped to hold such an event," Pastor Dok continued, "the Lord blessed us with a 150 gallon Rubbermaid water stock tank brought just in time for the baptism." However, while filling up warm water in the new tank, the pipe from the heater broke and there was no more hot water. But Angelina wanted to continue, so Pastor Dok baptized her in the cool water.

While witnessing her daughter's commitment, Sony Pream was inspired and wanted to join her daughter through the profession of faith. "At the end of the day, we all rejoiced!" Pastor Dok recalled. As Luke put it, "Likewise there will be more joy in heaven over one sinner who repents…" (Luke 5:7 NKJV).