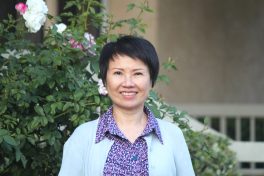 Iris Chuah cares about the "humans" in Human Resources. "No entity can operate without people," Chuah said. "If our mission is to bring people to Christ, it is only appropriate that our institutions have a department that can focus its mission on caring for its employees who are doing God's work."
Iris' work experience spans three decades and two continents. She worked in Human Resources and other areas in both the United States and Asia, spending seven years in Adventist Health Hong Kong, planning and developing HR strategies to achieve the mission of the organization, which has 1,100 employees. Pacific Union College and Andrews University have also benefited from Chuah's expertise and training.
"As my HR management and leadership positions moved from higher education to health care settings and back to higher education, I was able to analyze, develop, and improve various HR systems, programs, processes, and procedures," Chuah said. She believes the last 18 years have provided numerous growth opportunities in leadership, from being mentored to mentoring others in developing practical skills in administration and employee relations.
"The most rewarding part of my work," she shared, "is knowing my staff and I have made someone's day brighter or burden lighter, whether we were able to answer their questions or resolve their HR issue or just lend a listening ear when it's most needed." Outside of work, Chuah's interests range from networking with family and friends to traveling, meeting new people, and enjoying vegan cuisine.
SCC's mission, Exalting Christ by Serving Others, reminds Iris Chuah that "the purpose for my presence at SCC is to follow Christ, and by serving others, I may be obedient to Him and lift up His name."