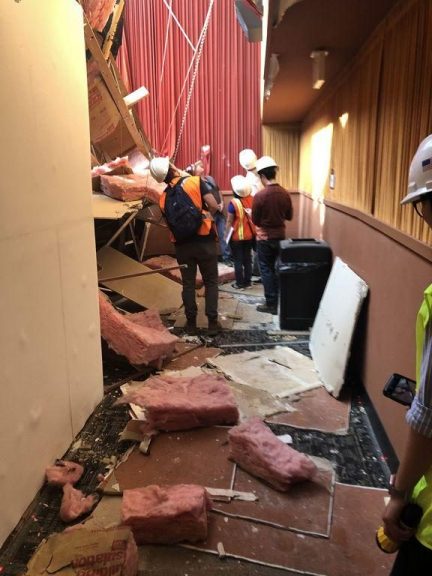 "All is well with church and church family," reported William Sellers, pastor at Ridgecrest church, on the Sabbath immediately following the July 4 and 5 earthquakes in Ridgecrest. "Church is still on for today, as we have much to praise Him for."
When multiple temblors occurred, with magnitudes of 6.4, 5.4, and 7.1, Sellers knew phone calls to check on his members were not enough. He was impressed to personally visit as many of his church members as possible. Sellers and his team, including Mark Reynolds, first elder at Ridgecrest church, and Nancy Danelson, principal at Ridgecrest Adventist Elementary, spent many hours immediately following the quakes visiting members of the church and school.
One of these members was Dodi Holly, who lives north of Ridgecrest in Inyokern. When the first quake hit, Holly's initial reaction was to remain calm. "God was with me the whole time," she said. "There was no need to worry. I could feel His presence with me in the room." Soon after, Sellers called to check in. "My daughter was in Alaska with her daughter," continued Holly. "Pastor Will went over to her house, turned off her gas and water, and did the same for the neighbor next door."
God was watching over the entire community. After the first earthquake, Ridgecrest Cinemas made the decision to close Friday night, a popular time for moviegoers. This proved to be a blessing because, shortly after Friday's quake, the roof collapsed in one of the larger rooms that would have been screening Toy Story 4.
Just weeks before this seismic event, Sellers had conversations about shared interests in disaster preparedness and seismology with Richard Guy, a member of the Santa Clarita church and a scientist at the Caltech Seismological Laboratory.
"William reached out to me to come up to Ridgecrest to talk about the Southern California earthquake environment generally," said Guy, who has been working with seismic instrumentation and data collection for 15 years, "and specifically about Ridgecrest and what preparedness is appropriate for that area."
Now that such an earthquake has taken place, Sellers and Guy are planning to revisit their initial plans.
"By God's grace, Ridgecrest suffered very little damage," said Sellers, "and none of our members suffered injury or damage."