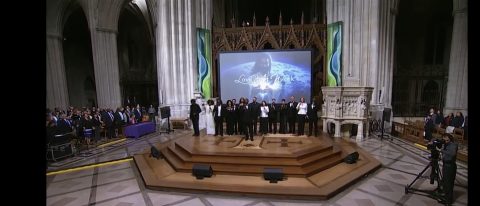 It all started 15 years ago. Schubert and Yolanda Palmer, members of Vallejo Drive church, had recently completed production on a CD of inspirational worship songs when, as they put it, "Yolanda heard God speaking to her, not audibly, but with the distinct impression, 'Put my words to music.'"
As songwriters, the husband-and-wife team thought perhaps God was impressing them to create another original production. But through fasting and prayer, "it dawned on us that God was impressing us to do, not another concert, but a very special musical for these end times, showcasing God's Ten Commandments, in God's own words!"
And so the Ten Commandments Love At Work (L.A.W.) musical was born. "From the outset, God impressed us to make this musical a collaborative effort," they said. This meant it would be a diverse production in many ways: multi-artist, multi-ministry, multimedia, multi-ethnic, and with clergy and laity working together.
The L.A.W. musical was a springboard to a brand new Bible study series in song. Entitled Love Me, the weekly 27-episode musical TV show is all about God's incredible love. This series airs every Sabbath afternoon on Hope Channel.
As with the original musical, the series focuses on the Ten Commandments wrapped in God's love. "The Lord showed us that as we are studying the Ten Commandments to present it all about love," Yolanda shared. "The purpose for this series is to lead men and women, boys and girls, to the foot of the cross."
It's no secret that music is a powerful tool for memorization; that's why all the key doctrinal texts in the program are presented word-for-word in song. It was important that the content of the program come directly from Scripture—and what better way to incorporate these concepts than in song? This format helps viewers memorize these important passages easily. "When it's in your mind, it's easier to share in a Bible study because we already have the Scriptures embedded," Schubert shared.
The series has proven to be an effective tool for both in-reach and outreach alike. Pilot programs at SCC churches, including Vallejo Drive and Pasadena, and in other states have each resulted in baptisms. There has been wonderful feedback from non-Adventist viewers; many have shed tears when the love of God became clear to them and others have shared that the program opened their eyes to Bible truth. Still others have eagerly asked, "Can I share this program with my family, with my minister?"
A simple way to spread the message, the Love Me series has opened doors for outreach and evangelism. Catch up with the latest episodes today—and share with a friend!
Watch & Share
Love Me Promo: https://bit.ly/lovemepromo
Time: Saturdays at 4:00 p.m. Pacific
Direct TV: Channel 368
Online: www.HOPETV.org
On Demand & Recent Episodes:
www.HopeTV.org/shows/LoveMe/episodes
Facebook: fb.com/OfficialLoveMe
YouTube: https://bit.ly/ytloveme
Ten Commandments L.A.W. Musical:
https://bit.ly/loveatworkmusical