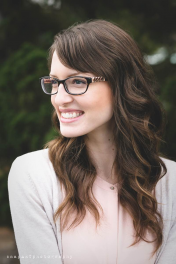 After serving nearly two years as a communication intern, Lauren Armstrong was appointed to serve as the Communication director for the Southern California Conference, effective January 1, 2018.
A graduate of Pacific Union College ('13), Armstrong earned a degree in Communication with an emphasis in Journalism and a minor in Business. She is currently studying for a Master's of Arts degree in Strategic Communication. Following graduation, Armstrong worked for three years as an assistant editor, then editor, at a business-to-business communication firm in Los Angeles.
"I plan to focus on SCC's online presence and use technology to engage with members and the community at large," Armstrong said. "We've established a growing presence on social media, and that's been exciting to see. My vision is to highlight how members in our churches and schools are living out our mission — how they are exalting Christ by serving."
"The mentoring relationships I've formed during my time at SCC have been invaluable," she continued. "I appreciate the network of communication professionals from the Pacific Union Conference and the North American Division. Within SCC, I've worked alongside Elder John H. Cress, executive secretary, on multiple projects. His support has helped me grow as a leader, and I appreciate that he has encouraged and empowered me to apply the skills God has given me. I've been blessed to work with and learn from Betty Cooney, who retired Nov. 1, 2017, after 18 years in SCC. Her experience and wisdom have helped prepare me to serve this conference. I pray for God's guidance and that I may bring honor to Him in this position, claiming the promise that 'all His biddings are enablings,' as stated in Christ's Object Lessons, page 333."