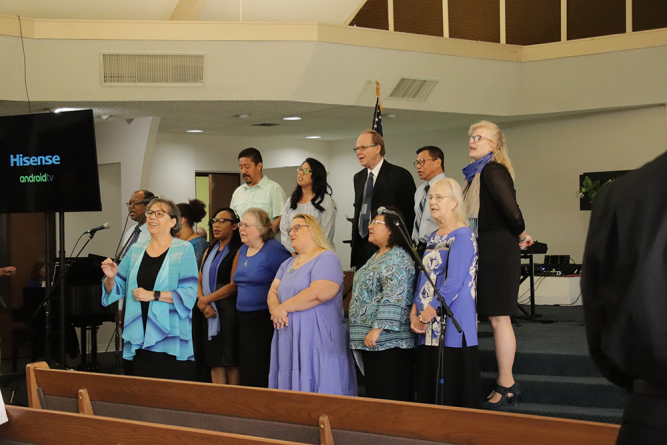 "September 30, 1916, a dozen members and the pastor made the commitment that they were going to take God's word seriously," said Ed Sammons, Lancaster church pastor. "And look what we have here today. What a tremendous thing it is that that little group of people achieved through the presence, power, leading, and guidance of God."
Sammons's comments highlighted Lancaster church's unique centennial celebration this summer—one that recognized the church's existence for 100-plus years.
The pandemic was partly to blame for a delayed celebration, but the occasion was as joyous as ever. The celebration began Friday evening and concluded with a fellowship lunch on Sabbath afternoon.
While renting a church facility in its early years, the church's first building was constructed in 1951, which included a church school, known today as Antelope Valley Adventist School. The church building where the congregation worships today was completed in 1970— the only building in the surrounding desert at the time, aside from Antelope Valley College.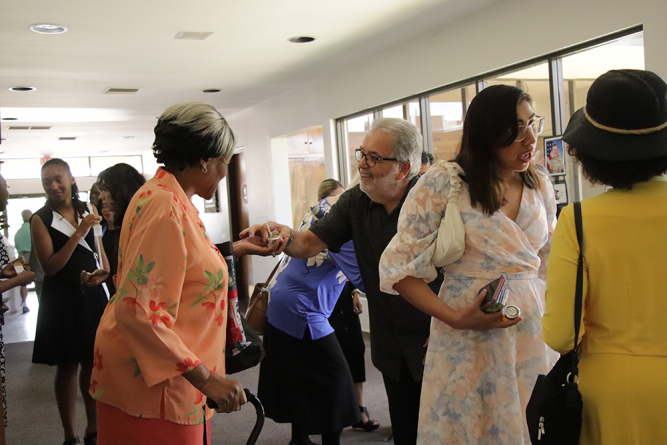 The population of the city of Lancaster has grown exponentially since its incorporation in 1977. Within an ever-changing community, the church has remained steadfast toward its mission of sharing the gospel and has seen God's faithfulness to His promises.
During the celebration service, several previous pastors shared greetings and memories. "I regard my time here at Lancaster church as the high point of my ministry of nearly, at this point, over 50 years," said Rockne Dahl, senior pastor from 2002-2010.
Sarah Grover, associate pastor from 2016-2021; David Hudgens, family life and young adult pastor from 1995-2002; and Chad Washburn, youth pastor and young adult pastor from 2010-2014, also shared their remarks.
Southern California Conference (SCC) leadership commemorated the occasion with flowers and a certificate of recognition. "We wish that this church continues being a lighthouse in this community," said SCC President Velino A. Salazar. "Praise God for what He has done."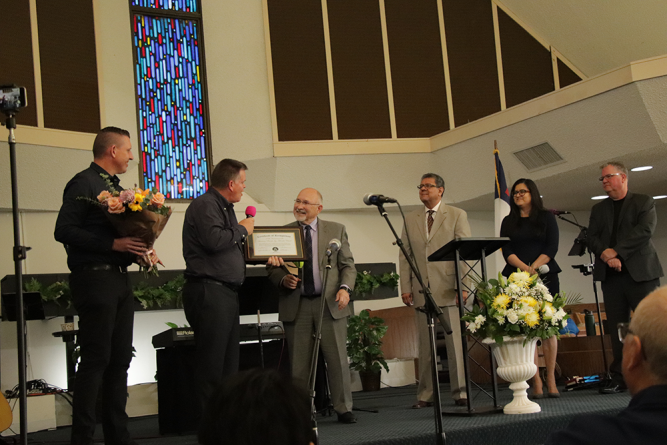 As SCC Executive Secretary John H. Cress presented the certificate, he read: "Given on Sabbath, June 24, 2023, in recognition of more than 100 years of faithful ministry impacting the community for Christ. May this church be like a tree planted by living waters that bears much fruit and may the love of Jesus which binds you together be strengthened. Congratulations from the Southern California Conference."
SCC Treasurer/CFO Kathleen V. Diaz presented a check for $10,000 to the church to expand the church's evangelistic vision. "Congratulations on keeping the flame alive," she said. Greg Hoenes, SCC West Region director, shared that evangelistic funds would also be offered on behalf of the West Region soon. "It's been a pleasure to journey with this church," Hoenes said.
As Salazar said, "This church belongs to Jesus Christ."
You can watch the livestream of the service at https://scc.adventist.org/lancaster-100.
Watch the video highlight below: