On Saturday, October 23, the Los Angeles Portuguese company held a cancer prevention day, an action in support of the Pink October Campaign. This Women's Ministries initiative involved all the ministries, with the support of the Ministry Mis Hermanos Pequeñitos, in an effort to provide assistance and guidance.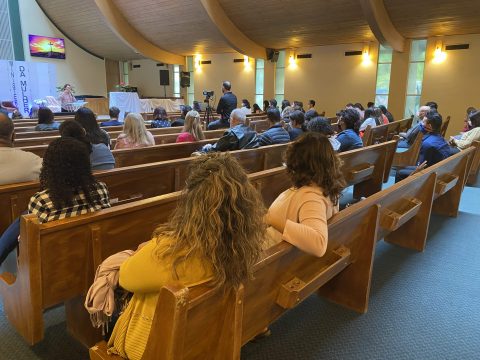 Attendees heard a lecture from Marta Heras, business administrator for Mis Hermanos Pequeñitos, and a specialized team performed ultrasound examinations of the breast, thyroid, prostate, and more. Another team explained self-examination, its importance, and how to carry it out. Participants were also able to touch the prostheses that simulate cancerous nodules.
The church served approximately 30 people, and the team is already organizing for the next preventive action. Mônica Nascimento, a food delivery worker, who performed an examination of the venous breast and lower extremities, congratulated the initiative.
"Congratulations on the beautiful work done today," she said. "All very attentive, cozy atmosphere; the professionals who attended the exams were great. Each volunteer, everything—all was done with care and dedication. May God bless and repay each of you."
During the program, Alexander Salles, pastor of the Los Angeles Portuguese company, was also honored for Pastor's Day. For Salles, actions like this strengthen the friendship of the community with the church. "We are seeking to be a relevant church for our community, and I believe we can become a health care center, especially preventive," he shared. "Our focus is on helping our friends and creating bonds so that they remain in our midst."