"I have to tell you," began Greg Hoenes, West Region director, "we don't do ordinations like this every day."
For José Gutierrez, ministry is a second career. After beginning his career in social work, Gutierrez sensed God calling him into ministry.
Trained as a family counselor by the county of Los Angeles, Gutierrez worked for multiple organizations in his earlier career, including Lockheed Martin, Penny Lane Foundation Organization, and Antelope Valley Hospital & Medical Center.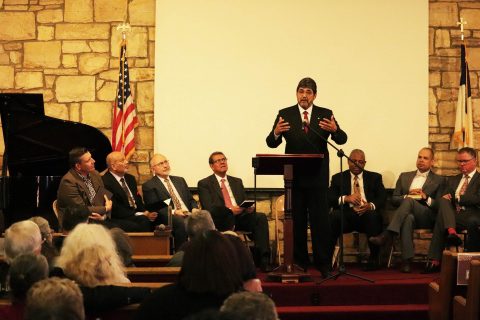 Gutierrez began his ministry in the SCC in 2003 as a lay pastor. Prior to Palmdale, Gutierrez also pastored the Lake of the Woods and Sylmar congregations. He pursued a degree in religion in 2004 and in 2013 received a certificate from Philippine Amazing Facts Center of Evangelism. He is currently undergoing studies for the Master's in Pastoral Ministry with Andrews University.
Members from each of the three congregations Gutierrez oversees were present for the service: both the English and Spanish congregations from the Palmdale church, as well as members from the Acton group.
"Pastor José is a soul-winner," Hoenes asserted, to which the congregation responded with "amen."
The song "Let Them See You" by JJ Weeks Band was shared as a special presentation by Gutierrez's nephew and daughter; the lyrics fittingly describe Gutierrez's ministry.
"We pray that the fruit will be many in the kingdom," John H. Cress, SCC executive secretary, prayed in the ordination prayer as the ordained ministers in attendance laid hands on Gutierrez and his wife.
In closing, Gutierrez shared his response. "God did this—I didn't do this," he began. "I was searching in a life that is not worth mentioning. He forgave me, and then He called me. By His power and your help, I am here."