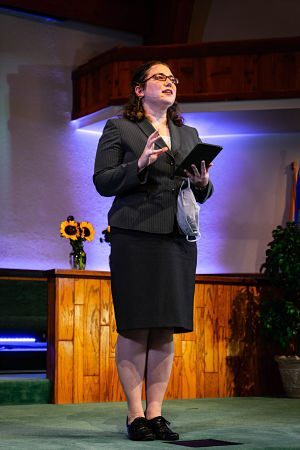 Answering God's call isn't always an easy task, but it is a decision that is often made simpler through the love and support of community. That love and support resulted in a deep gratitude that was present in November when Jillian Lutes, associate pastor of West Covina Hills church, was ordained to the gospel ministry in a livestreamed service.
"I have looked forward to this day, as much as for anything else, as an opportunity to appreciate the many people who have equipped and supported me in following my calling," said Lutes. "Today is just as much about affirming all the love and effort that you have poured into me as it is about the ministry that God has used me to do."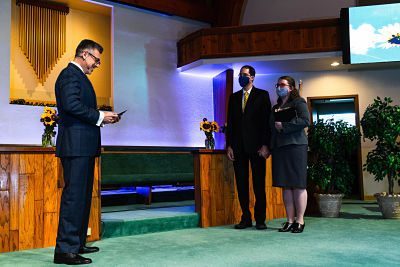 Lutes' ordination was voted in late March, when churches first stopped meeting in person during the early period of COVID-19. Initially, she planned to wait to have the ordination ceremony until the virus passed. When presenting Lutes with credentials, John H. Cress, SCC executive secretary and ministerial director, noted the change of plans, saying, "We had no idea that almost eight months later, here we would be."
Friends and colleagues showered Lutes with messages of support and encouragement on that special day.
In his homily, Velino A. Salazar, Southern California Conference (SCC) president, shared a message from Judges about Deborah, a woman who dedicated herself to be used by God in any way. "This afternoon, I want to remind you," said Salazar, "that throughout the centuries, God has called men and women whenever He pleases and considers appropriate to speak and act on His behalf."
James G. Lee, SCC executive vice president, gave the ministerial charge, imploring Lutes to dedicate herself to the task of preaching the gospel of Jesus Christ.
"The entire journey of ministry so far has felt like one big trust exercise," Lutes added. "It hasn't always been clear to me why God chose me for this path, but I pray that He will continue to equip me for what He has given me to do."