There's no question that Ira Barksdale has a heart for ministry. He's spent the past 37 years serving in ministry in various capacities: former assistant business manager of Los Angeles Union school (now L.A. Adventist Academy), SCC associate treasurer, lay associate pastor and youth pastor at Los Angeles Central church (now Los Angeles Central City church), and youth and young adult pastor at Rolling Hills church. Barksdale currently serves as senior pastor of the Miramonte and Maranatha churches.
This April, Barksdale's ordination spotlighted his calling to and passion for ministry. SCC President Velino A. Salazar and Executive Vice President James G. Lee shared words of encouragement, and Executive Secretary John H. Cress presented Barksdale with his credential. Cress prayed for the Spirit to join in the occasion, stating, "This is a moment, even out of all the busyness of life, even in the church life, in which all of heaven takes notice, as we set somebody aside into the gospel ministry."
The ordination service included participation from various colleagues and members who have walked alongside Barksdale in his ministry.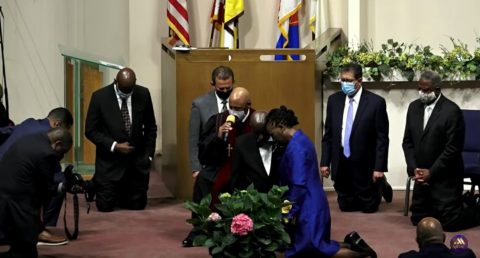 Elder Royal Harrison, Greater Los Angeles Region director, introduced Barksdale as the candidate for ordination and read his biography aloud to give a sense of Barksdale's amazing journey. Through his personal story, listeners "can see how God has touched this man in a mighty, mighty way," Harrison stated. 
Harrison also presented and explained a unique—and intentional—gift of not one, but two Bibles. "Though we are ordaining you, pastor, the Greater Los Angeles Region believes in team ministry, and Sonia, you have been a big part of the team of the Barksdale family." 
In his response, Barksdale thanked people in his local churches who have partnered with him in ministry. He shared his mission to help the voiceless and marginalized; those who can't stand up for themselves. "I want to serve as an example of righteousness," he said, "being the same man serving behind closed doors as if I were in the pulpit's eye." 
"I got discouraged those first few years, but God in His mercy decided to tell me, 'Get up, Ira Barksdale! You may have fallen down, but get up, I still have something for you to do,'" he recalled. 
"God has given me my best life," he continued. "I didn't know it was going to be possible; I had no idea."