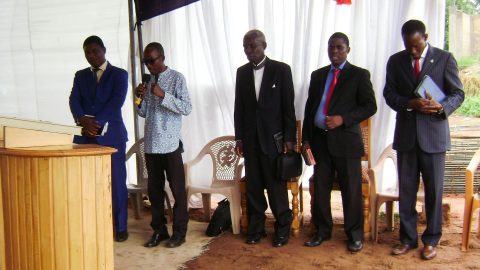 Lawrence Klutse's dream to build a church in Ghana came to fruition in early May when Gbuglakope Shilo church was planted in the town of Aflao, in the Volta Region of Ghana. Using the inspirational theme "Hope for Gbuglakope," the three-week mission trip was led by Klutse, a member of Smyrna church.
"At the beginning of the campaign, we prayed that God would prevent the powers of darkness from touching us," said Klutse. "We also prayed for God to keep the rainfall from interrupting the campaign, because it was an open-air camp meeting and it was the rainy season in Ghana."
The crew did experience heavy rainfall that at times stalled the work. One afternoon, while Klutse was speaking with Elder Alex Kportima and the nightly security team, a rainstorm destroyed the wooden pulpit and shattered the glass on top of a five-foot platform. However, no one was injured, and there was no additional rain until after the church building was complete.
In addition to rainfall, the team experienced challenges at the ground level, including multiple snake encounters during construction at the campaign site.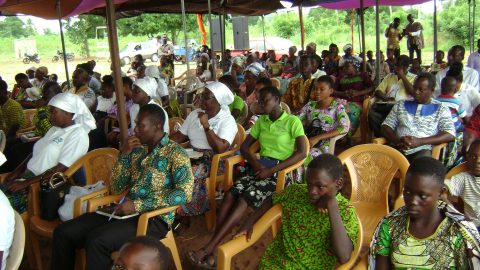 Aflao District Pastor Paul Harvey Mawutor oversees five churches, while several elders rotate preaching at each. Twenty years ago, there was only one district, with one Adventist church. Now the organizational structure has expanded to include four districts, each with multiple thriving churches. Gbuglakope Shilo church joins four others in Aflao District: Aflao Central church, Aflao- Border church, Maranatha church, and Huime church.
"Aflao District lacks funds for evangelism," said Mawutor. "It was therefore an answered prayer and a blessing to open a branch at Gbugblakope so that many poor people—mostly idol worshipers— may have the privilege of knowing the true God." Mawutor intends to establish a small Adventist food outlet in the area to benefit members and further spread the gospel.
On the last sundown of the campaign, retired assemblyman Moses Abuya arrived to meet with Klutse and two of his team members to encourage them to continue the work they had begun in the village.
"He told us he used to practice Juju, but now he has a better understanding of the Bible, based on the Adventist doctrine," said Klutse, sharing part of Abuya's testimony from that night. "He had been sick and unconscious in the hospital for several days. Yet, he made a miraculous recovery." In sharing his story, Abuya simply thanked God for allowing the Hope for Gbuglakope team to bring His message to the community.