During the COVID-19 pandemic, churches in SCC's Hispanic Region have been busy ministering to the felt needs in their communities. Many have started or continued operating food banks, and hundreds are impacted by these ministries each week.
According to Baldwin Park Community Services Director Noemi Sias, their church distributes 16,000 lbs. of food to about 380-400 families each week. Saul Aispuro, pastor of Lynwood and South Gate Spanish churches, sees people travel from a distance to receive the services these two churches provide. At Glendale Spanish, cars line up for two blocks every Wednesday, and 300-400 families benefit weekly. Food distribution is just the start at EastMont Spanish; the church also welcomes community members to receive prayer by phone or Bible studies via Zoom.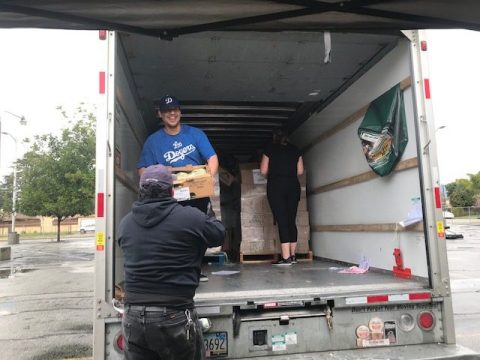 "Having a food bank at the church helps us to be involved in our community so that the community knows that we are there to serve them," noted Salvador Garcia, pastor of the East L.A. Bilingual church. "Some community members who are not members of the church help volunteer to serve the food. Many have received Bible studies and attended evangelistic meetings."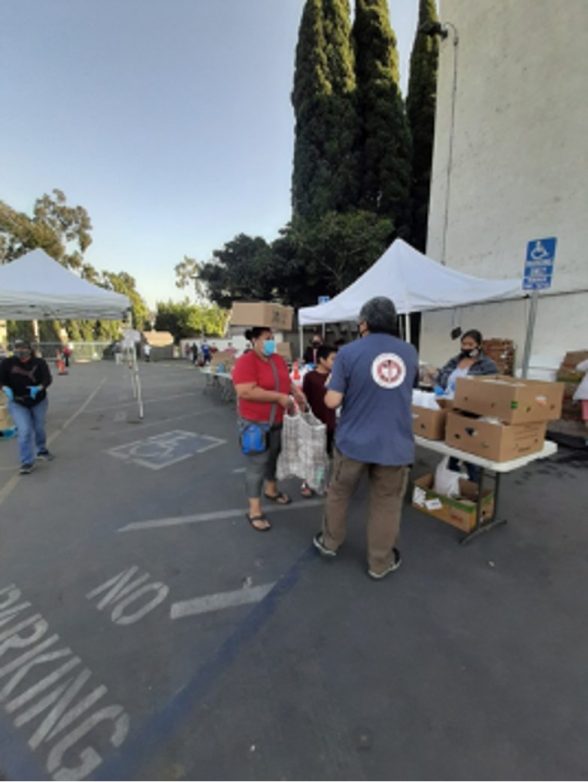 At San Fernando Spanish church, health ministry goes beyond providing nutritious food. "We have quite a few visitors come from the community, and we conducted a survey as to what topics they would be interested in learning more about as they wait for the food truck to arrive," shared Javier Huerta, pastor of the San Fernando Spanish church. "Ninety-nine percent opted for health and mental health topics. COVID-19 has turned our world and our lives upside down and many people are suffering from mental health issues than ever before." Huerta's wife, Gloria, has since spoken to attendees about eating well during the pandemic and the importance of eating nutritiously to help ease anxiety and depression.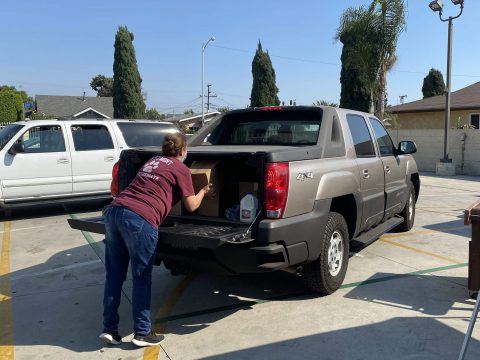 La Voz Sylmar Spanish church served food to more than 2,000 people during the month of September alone, but they know God has more in store for their ministry. "When we see cars lining up to received food supplies, we know that God is working through us," said Yonny Jimenez, pastor of the La Voz Sylmar Spanish church. "A few weeks ago, we started asking people if they would be interested in receiving Bible studies. So far, we have more than 10 people who showed interest in receiving Bible studies."
For many churches, this pandemic has become a perfect opportunity to reach out and strengthen relationships with their local community. "God has allowed the COVID-19 pandemic to be with us," reflected Mario Melendez, community services director at the Spanish American church. "We have a once in a lifetime opportunity to reach 'difficult' people to reach. We need all of our brothers and sisters in Christ to see the golden opportunity to reach people for Christ. As Ellen G. White describes it, reaching people with 'Christ's Method' or 'El Metodo de Cristo.'"
"Please pray for us that this food bank might be channel of spiritual blessings for our community," Jimenez continued. "Our ultimate goal is to reach our community with not only food, but with the bread of life who is Jesus, our Lord and Savior."