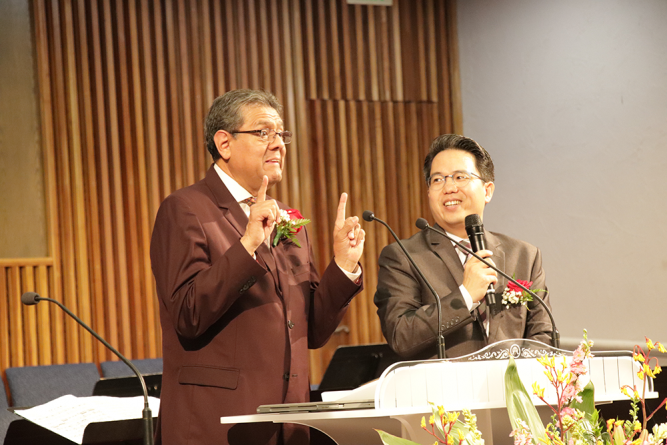 This spring, Glendale Korean church celebrated two significant milestones: paying off their mortgage and the commemoration of their 50th anniversary. The joyous day, which consisted of two ceremonies, one in the morning and one in the afternoon, brought together the congregation and friends from near and far.
In his message Sabbath morning, Velino A. Salazar, Southern California Conference (SCC) president, emphasized the importance of God's temple being a house of prayer.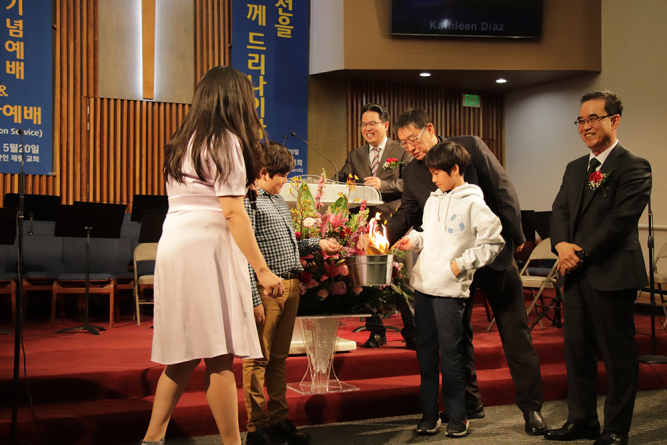 "Prayer is an indispensable practice for the Christian church," Salazar said. "There is no encounter with God if there is no prayer. When we come to this place, we should give the recognition to God for His blessings."
Kathleen V. Diaz, SCC treasurer/CFO, burned the mortgage papers for the sanctuary, which marked the completion of the church's financial burden and signified the inheritance of the building for a new generation.
In his welcome during the afternoon anniversary celebration, Timothy Choe, senior pastor since 2014, compared the Old Testament Jubilee to the church's 50-year history. He called it a "spiritual jubilee" in which the church recognized God as the true owner of their lives.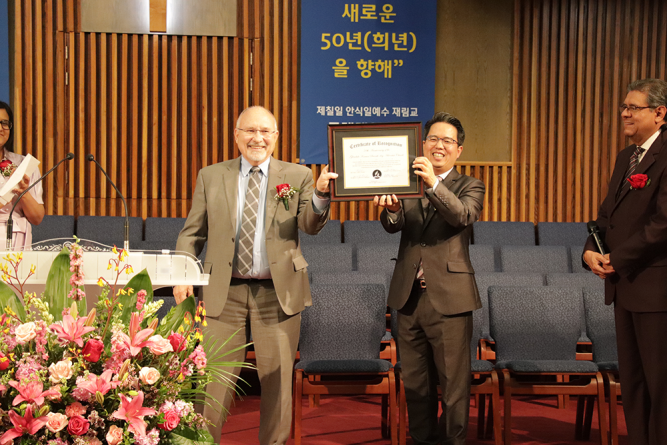 John H. Cress, SCC executive secretary, presented a certificate indicating "fifty years of faithful ministry impacting the community for Christ," and Diaz gifted a $5,000 check for Glendale Korean church to expand its evangelistic vision.
Eight pastors have led Glendale Korean church since 1973, beginning with Byeongseo Cho. In the church's early years, members met at the Glendale Civic Auditorium. Under Pastor Cho's leadership, the congregation purchased property in Eagle Rock, the church's current location. In 1982, Dongeun Kim was appointed as the first English-speaking pastor to begin English ministries. Today, the English ministry, led by Associate Pastor Timothy Yun, is an active part of the church.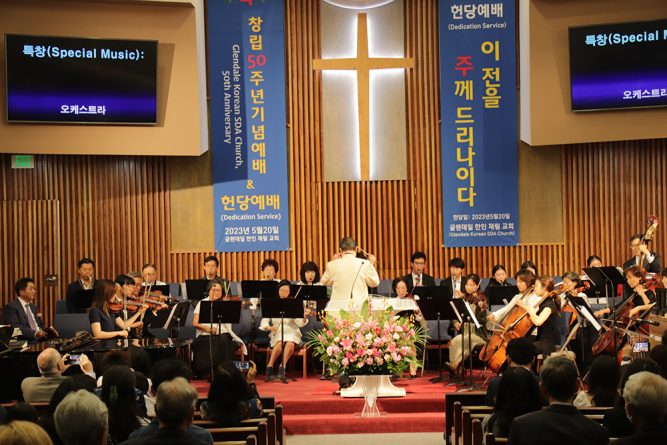 To accommodate growth over the years, the church purchased a parking lot next door, expanded the facility with a multipurpose youth building in 1991, and constructed a new sanctuary, completed in 2008.
The church has led several overseas medical missions to the Philippines, reaching Las Piñas, Puerto Princesa, Tubigon, and City of Imus. As additional support for these efforts through the years, a special offering was given to Peru and the Philippines during the anniversary program.
The celebration concluded with a concert— featuring an orchestra, solo vocal performances, and the Glendale Korean church choir—and a fellowship dinner. The focus of this momentous day was clear: gratitude, praise, and honor to God for His blessings on this community.
50th anniversary celebration video highlight:
Mortgage burning video highlight: