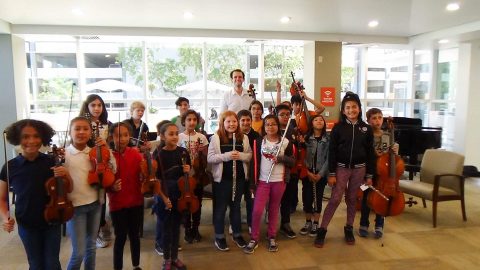 Our congregation has been on a journey to become the best friend to our city by providing tangible expressions of love that bring about transformed lives," said Todd Leonard, pastor at Glendale City church (GCC).
One of the most successful ways GCC has built this strong relationship with its community is through the Caesura Youth Orchestra (CYO), a 501(c)(3) charitable organization and an El Sistema-based program that provides free instrumental music education to underserved elementary school-age children in its surrounding neighborhood. CYO launched five years ago, in collaboration with GCC, with the desire to enrich both the kids and the community in which they reside. GCC currently hosts CYO events, concerts, and board meetings.
"The name caesura is a musical term denoting a break in a passage of music," said Dave Ferguson, member of GCC and president of CYO. "The Caesura Youth Orchestra is designed to give kids a 'break' from the risk of after-school involvement with gangs, drugs, and violence that is prevalent in low-income neighborhoods in the Los Angeles area."
On May 17, CYO celebrated the completion of another successful year: 22 new students graduated from their first term, and the advanced students received a master class with world-renowned violinist Jaime Jorge. That evening, CYO students and parents celebrated with a pizza party at the church, followed by a special concert performance by Jorge.
During the last five years, CYO has trained and inspired more than 150 students and now serves two different campuses in Glendale. Through donations from members of GCC and the community, the students receive free after-school music instruction from professional staff and choose a new or refurbished instrument to play: a violin, viola, cello, flute, clarinet, trumpet, trombone, oboe, recorder, or French horn.
Rachel Lopez, four-year teaching artist for the woodwind students, has witnessed the impact the program has made in students' lives, enabling them to develop new skills.
"They get to experience a variety of values such as responsibility, discipline, professionalism, and commitment to music," said Lopez. Warren Haggerty, teaching artist for strings students since September 2018, believes these skills will benefit the students not only in their musical studies but also in their schoolwork, extracurricular activities, and beyond. "Playing well together as an ensemble requires a sense of selflessness and empathy," said Haggerty, "and our students have displayed this beautifully."
Through its children's, youth, and adult choirs and the multiple concerts hosted on campus each month, GCC has amassed a rich music culture and has become a hub for classical music performances within both the Adventist and Los Angeles arts communities.
"Hundreds of kids' lives have improved because of our church's musical heritage," added Leonard. "Our church is more connected to our city because of Caesura."