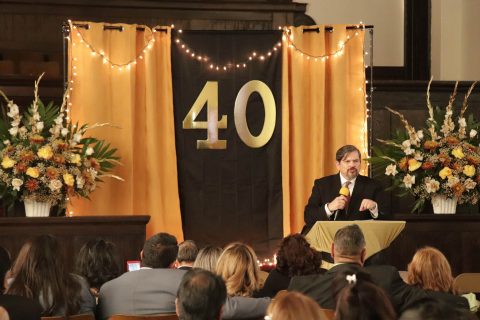 It was a full day of joy and celebration as current and past members of the Glassell Park Spanish church in Glendale, Calif., gathered together for the church's 40th anniversary. Some members came from local cities like Los Angeles, while others traveled from other states for this special milestone.
The church's current location in Glendale is only its second address during its 40-year history; the first was only a short distance away in Eagle Rock. The congregation, which is currently renting its facility, longs to have its own building and more freedom to do ministry. Velino A. Salazar, Southern California Conference president, addressed the congregation, saying, "This church has been very generous—you need your own facility." Pastor Javier Huerta, who pastored the church for four years, prayed that morning that the Lord would guide and bless in this particular area.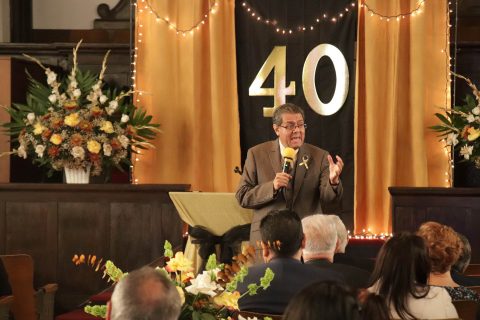 More than 15 pastors have had the opportunity to lead the church throughout its 40-year history. Five of those pastors were present and took part in the worship service: Cruz Castro, Javier Huerta, Moises Gullón, Giddell Garcia, and the current pastor, Salvador Garcia.
Giddell Garcia, currently the pastor at Culver City Spanish church and Hawthorne Spanish company, was the pastor at the Glassell Park church from mid-2014 to mid-2018, immediately preceding the current pastor.
Giddell Garcia shared the morning's message, which centered on the seven churches found in Revelation. He spoke of confronting obstacles and continuing to grow from the experience. Each of these seven churches received a different message, but "these churches came with the presence of God," Giddell noted. "The last 40 years don't matter; you have to keep with the presence of the Lord until He comes."
"My prayer," shared Josue Brito, head elder, treasurer, and risk management director at Glassell Park church, "is that we may revive the same desire and spirit of the pioneers of this church so that we may have great success to honor our God by sharing the gospel in the most efficient manner possible and by that way growing enough to have our own church."