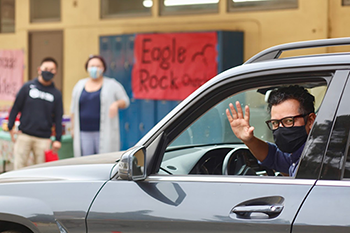 With the inspiration of San Gabriel Academy's drive through held in August, Glendale Adventist Academy (GAA) did a Thanksgiving drive-through on November 20.
It was held on the last day of school before our Thanksgiving break started. God blessed our faculty's efforts and planning with the attendance of more than half of our student body in the academy. We had more than 70 people RSVP for the event. There were stations all over the campus where students could pick up free homemade food items prepared by our faculty, such as a boba drink, hot chocolate, a veggie corn dog, and a homemade chocolate chip cookie with a Scripture promise on it. We also had a paper airplane competition and a water balloon target station.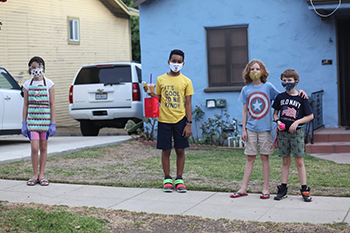 At the water balloon target station, our business manager Jared Hinkle and history teacher Stephen Nelson were standing targets. What joy and laughter it brought our students to be able to splash them with a water balloon for a prize. Eagle Rock church was also in attendance supporting the event. Both Senior Pastor Cherise Gardner and Youth Pastor Laxmi Saquilayan were present, supporting GAA and passing out engraved Eagle Rock church pens for each student in the car with a goody bag with delicious treats.
The students were also encouraged to bring canned goods to the drive-through ahead of time to be collected and delivered to the White Memorial church for their food ministry.
It was a joyous and exciting event for the students, families, and teachers alike. God truly blessed our efforts and provided an atmosphere of thanksgiving and praise throughout this time of uncertainty.
>> To watch the video highlights, click here.