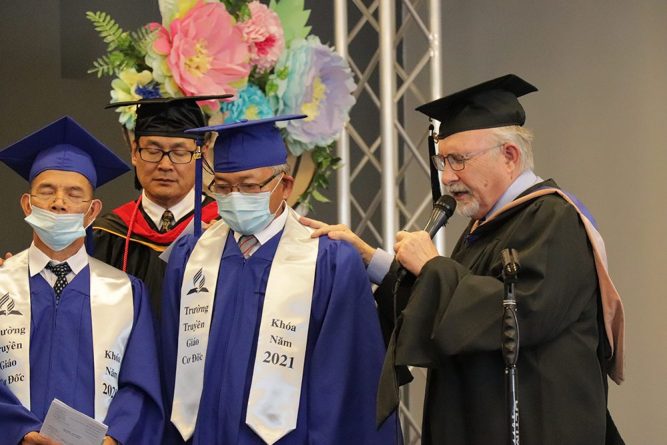 "What about an evangelism school?" Vinh Nguyen, El Monte Vietnamese church pastor, recalled a member asking him. Initially, Nguyen was hesitant, and it was challenging. "I almost wanted to give up," he recalled. "I said to God, 'When we have enough students, we'll start the school.'" But he sensed God's response: "God said 'You have so little faith—you start the school, and I will provide the students.'"
The idea first went to the board with three students. When the school launched its inaugural class in 2017, there were 40 students.
Fast forward to 2021, when the two-day graduation celebration highlighted the mission and work for the 15 graduating students. The graduates were spread out across the world. Many came from throughout the U.S., including California, Washington, and Florida, and some even participated from Vietnam.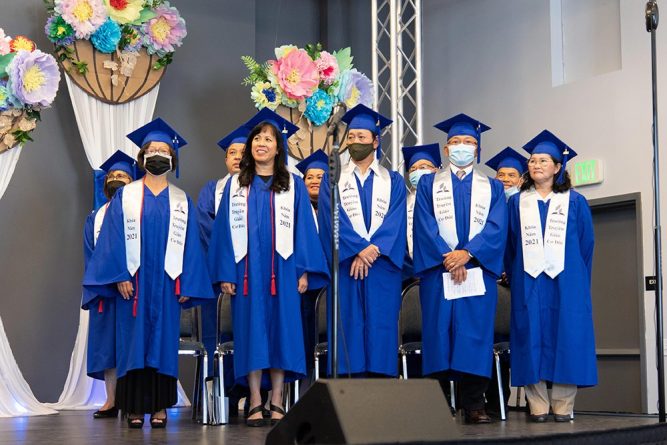 Each graduate took a moment to share what their participation in the evangelism school has meant to them. The common thread of gratitude for the opportunity to participate in the evangelism school was woven throughout the comments.
"I finally realize God has done so much for me through these evangelism classes," one graduate said.
"I count it as a great privilege to be part of the Vietnamese evangelism school," shared Cynthia Nguyen, pastor Nguyen's wife, who was also a student in the class. "I can't say no to it when I consider how much God has done for me."
Graduates are currently using their gifts and passion for mission in many ways, like planting churches and leading Bible studies.
Jose Cortes, Jr., from the NAD Ministerial Association, spoke to the graduates during the morning worship program. Cortes was present when the first class started in 2017. His message was about baptism and making disciples.
John H. Cress, SCC executive secretary and ministerial director, was also there in 2017 when the school was organized. At the graduation, Cress encouraged the graduates to continue drawing closer to Jesus as they minister for Him. "Your walk with Christ is the crucial foundation for your work for Christ," Cress said, encouraging graduates to "pay close attention to yourself (your walk) and your teaching (work)."
Cress also gifted the church with a check for $1,000 on behalf of the conference to further the ministry.
Nguyen also shared that the first call was to build a mission center at the church—the very building where the graduation took place. The mission center would be a hub for two purposes: 1) serve community in mission work and 2) be trained for outreach.
The next evangelism school cohort will start in September 2022 and include even more modules, such as church planting, evangelistic meetings, life and ministry of Ellen White, and more.