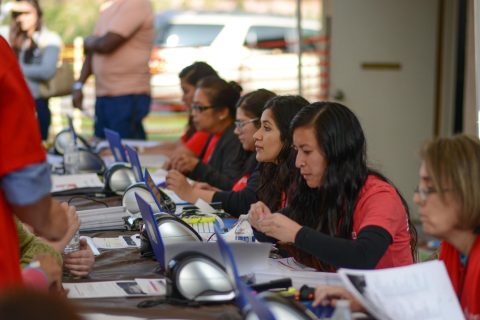 Eleven Southern California Conference churches worked together to provide volunteer staffing and other support for an AMEN (Adventist Medical Evangelism Network) Free Clinic at the Downey church on March 19 and 20, 2017. The clinic planning and implementing was done by a team from the involved churches, which included Norwalk, Downey, Bellflower, Temple City, Long Beach, Whittier, South Bay, Gardena Genesis, Alhambra, Hawthorne/Carson International, and Journey.
The team prepared and distributed advertising for volunteers — both nonmedical and­­ health professionals — and then for patients. Targeted marketing was done through the online list of AMEN registrants. Some of the involved churches sent direct mail announcements inviting residents in their communities and neighborhoods to the clinic and to their church.
Pastors John Jenson, South Bay, and Ross Calkins, Bellflower, served as co-coordinators of the clinic planning team. "I was watching the chiropractors working with patients," reported Jenson. "One of them, Anhtwan Lee, DC, had recently lost his wife to cancer. He made extra effort, both days, praying with the patients. He made a very special point of leading each patient spiritually. 'I want to be done here and see my wife again,' Dr. Lee said."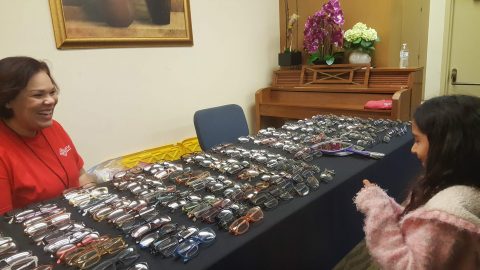 Team spirit was high among the participating church pastors and 175 volunteers. "They enjoyed working together," noted Gerard Kiemeney, director of the L.A. Metro Region, the sponsoring region for the clinic. "They helped wherever needed and with patients from any area, regardless of whether patients were from their church area or not.
"The free AMEN clinic in Downey went very well," said Jenson, "and exceeded our objective of having 300 people coming to the church and into the arms of encouragement, hope, and healing: a total of 341 came (260 on the first day; 81 on the second)."
Ross Calkins' church, Bellflower, followed up the clinic with a cooking school, which some community people attended, though, he said, he was not sure that any who had been at the clinic had come to the class.  
"But, you know, Jesus healed a lot of people who are not known to have been baptized," Calkins said. "With the clinic, we tried to connect with as many people from the community as possible, offering health-related and spiritual books and other materials if they wished to have them. One volunteer told me, 'I heard one of the patients telling other patients, "They [volunteers] are all going to get their crowns!"' My prayer for the clinic had been that people would be able to experience Jesus in some way by coming to the clinic and receiving services. From her remark, I think they got the spiritual message we were hoping to convey!"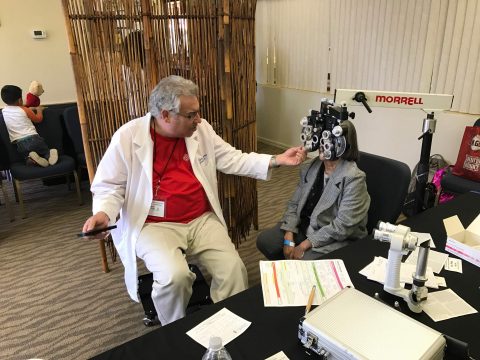 Downey-Florence, the host church, was delighted to be the clinic location, according to Pastor Cary Fisher. "It was an awesome experience!" he said. "I really recommend that other churches have a clinic. It's an opportunity to do real hands-on service for others in the community. For those in the medical field, who many times can get caught up in bureaucracy, insurance issues and long hours, volunteering in an AMEN clinic gives them an opportunity to reclaim the sense of mission that drew them to the medical field."
"For our church as a whole, the clinic was an opportunity to have a tangible relationship with our community," Pastor Fisher continued. "They realize that we want to help. City leaders also know about our church through the clinic. The City of Downey's Health Initiative is sharing information about our follow-up diabetes seminar and cooking school!"