Eagle Rock church held its 5th annual National Night Out (NNO) block party on its campus this summer. The national event is a chance for community members and vendors to get acquainted with one another and with the church.
The Target in the local mall was the official location in the city of Eagle Rock for several years; now they're one of Eagle Rock church's valued partners for the annual event. Eagle Rock church became the official National Night Out location for the city of Eagle Rock in 2015, which senior pastor Danny Chan considers "a big honor."
Tina Juarez, Eagle Rock church member and NNO Community Partners Liaison, remembers when Councilman Jose Huizar asked if a church with a big enough space would host it. "The goal was to bring businesses and community together to establish good relationships," she recalled. From 20 booths the first year to 31 this year, and 250 attendees to 400-plus, the event has experienced consistent growth. As a result, the services available to community members also grow every year.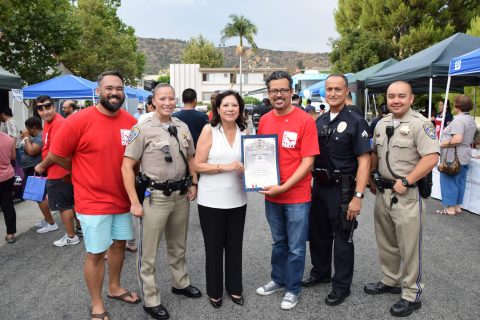 "The community gets to hear the benefits available to them, and our partners get to promote their services to the community," Pastor Danny said. "We found it's a really great partnership." This year, organizations like Glendale City Church's Communitas Initiative exhibited at the event for the first time. Longtime partners, like Adventist Health Glendale, Walgreens, and Sprouts, continued their support and participation. Los Angeles Police Department and California Highway Patrol representatives were on site for the fifth year in a row.
Many of the partners have much more than a one-day relationship with the church. Sprouts donates food to the church twice per week for use in its weekly soup kitchen or other outreach. Walgreens initiated a free flu shot expo at the church last year.
For a church with a large portion of the membership who commute, the event is a great way for the church to get to know its neighborhood and introduce itself at the same time. At the National Night Out event, many of the church ministries have the chance to show the community what they are all about. From Pathfinders and Adventurers, to Women's Ministry, church ministries for the community are well represented. The Community Classroom, which debuted at last year's National Night Out, offers classes on depression recovery, reversing diabetes and more.
Tracy Harder, Eagle Rock church member and history and English teacher at Newbury Park Adventist Academy, presented the idea for hosting the event to Pastor Danny five years ago. Harder coordinates the food booth at the event, which this year provided free homemade and store-bought veggie burgers to guests. "Anyone can do it — just come up with the idea of what the community might like, and bring the community to your church to see what's going on," Harder continued. "I encourage it. To me, it's the perfect outreach to get people on your campus, whether church or school."
As Krishna Nair, Eagle Rock head elder, put it, gesturing to the guests and church members filling the campus, "This is where we build relationships."