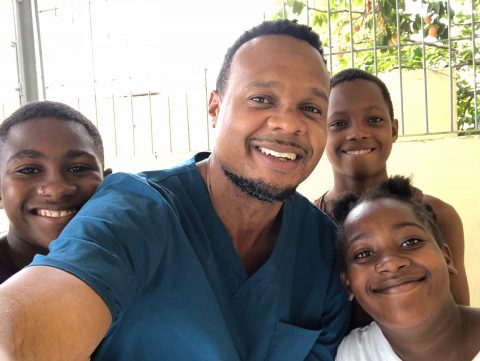 This summer, Team Jamaica from Breath of Life (BOL) church served at the Good Samaritan Inn (GSI) in Kingston, Jamaica. GSI is operated under the leadership of the East Jamaica Conference (EJC) and offers hot meals, showers, and medical and dental services.
GSI's vision includes expanding its services to care for women and children who are victims of domestic violence. "The privilege of sharing and implementing this vision enriched the team's resolve to continue its commitment to help those in need," said team leader and BOL member Glenda LeFlore-Steward.
Team Jamaica is comprised of current and former BOL members. The team visited Kingston twice before, in 2014 and 2016, providing services and furnishings for the clinic. They partnered with EJC and adopted the clinic to ensure it continues to succeed at ministering to the needs of the underserved. When BOL learned of the plans for the GSI, "we were determined to be a part of this ministry," LeFlore-Steward said.
THIS YEAR'S TEAM
Pastor Michael Jenkins, Jr.
Team leader: Dr. Glenda
Le Flore-Stewart, FNP-C
Robert Stewart Endenne Dupree, OT
Lara Dada, RN
Pauline Hall, RN
Tina Lewis, PA
Solomon Jacobs
Maria Kelly
Malachi Harris
Several organizations contributed to make this mission possible. MAP International provided discounted medications often used in primary care. Americares provided medications and clinic supplies. Thanks to additional donors, the supplies included Netgear IT equipment, now utilized for Wi-Fi capabilities; a Mac 1200 Electro Cardiogram; an electrocautery; wall mount BP cuffs; a nebulizer; three Welch Allen automated vital sign monitors; 800 pairs of reading glasses; and many other items.
Organizers anticipated that the donated items would occupy five barrels, but the amount rapidly grew. The mission quickly moved into overflow mode as donors increased and supplies multiplied. In total, 15 barrels and five suitcases of clothing and medical supplies were donated and shipped to Kingston.
Every morning of the trip, breakfast was a huge hit, as the team provided a protein-rich hot meal to start the day. Prior to breakfast, devotion time served as the morning's spiritual food. Many of the clients at the GSI were facing serious life challenges, so individual prayer and counseling was available throughout the day. There were 236 visits for counseling, medical care, clothing, and reading glasses. The food ministry provided 296 meals.
The team also set up a daily clothing boutique/bazaar. Individuals of all ages were free to select their choice of clothing and other personal items. Children were assisted by the team's licensed children's occupational therapist, whose love and attention were reflected in the smiles of the kids. Children also received crayons and books.
Not only did the ministry help many at the GSI, it made a difference in BOL's team members' lives as well. "I took for granted the impact this trip would have on me personally," said Endenne Dupree, BOL member. "I realized the importance of giving back. I am grateful for the experience and hopefully forever changed. I look forward to going next year."
Team Jamaica will continue despite the fact that the mission trip is over. Supplies will be sent, other medical and dental services will be solicited on behalf of the GSI, and prayers for expansion of services will be directed to heaven.