In May, the Breath of Life church hosted a Community Baby Shower, in partnership with three local organizations: Great Beginnings for Black Babies, Claris Health, and the City of Inglewood Police Department. More than 50 new and expectant mothers, along with their families, attended the event.
As the mothers entered the church's open doors, they were met with inviting smiles and warm hugs. Greeters ushered guests to the fellowship hall where the shower was being held. No small detail was overlooked—from the elegant décor to the charming diaper cakes, delightful gift bags, generous gift cards, and delicious food. Each mother was shown how special she is.
The shower activities included a "Baby Shop" where the mothers could select items for their baby, a prize giveaway of baby essentials (strollers, diapers, and walkers), and an opportunity to engage with two licensed lactation specialists in an informal question and answer session. As an additional service, free childcare was available during the shower, so the mothers could give their full attention to the festivities.
"Christians have a duty to be Jesus's hands and feet," said one guest. "Your congregation choosing to open your doors to bless people on the Sabbath with no obligation is what Jesus did and would have done."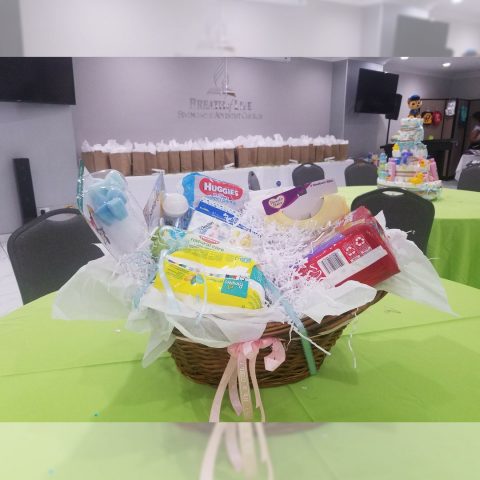 Although the Breath of Life church set out to serve others, the community is also serving church members with the opportunity to get to know growing families. "We look forward to the community 'baby blessings' in the near future so that we may continue to connect with and minister to these mothers," said Eugene J. Hamilton, pastor of the Breath of Life church.
The congregation wants to be sensitive to the needs of the community and to partner with local entities to provide appropriate services and resources to meet those needs. The church's mission and greatest desire is to know Christ and make Him known through loving service, ultimately preparing all for His soon return.
Under Hamilton's leadership, the church embarked on a new adventure called the Year of Service and committed to #BOLSERVES in 2018. The year started with a Community Outreach Day, where the entire congregation separated into small groups to serve the elderly and homeless communities.
"It is our desire and prayer to keep #BOLSERVES thriving well beyond 2018," said Hamilton.