"It was actually frightening to even think about hosting a fundraiser at the beginning of the school year, knowing how challenging the years have been for families to withstand this pandemic and make ends meet," shared Roselaine Gorospe, San Gabriel Academy Elementary (SGAE) teaching vice principal. "When we were introduced to Raise Craze however, we couldn't deny that a fundraiser built on kindness fit our school's values and helped SGA impact our community in such tangible ways."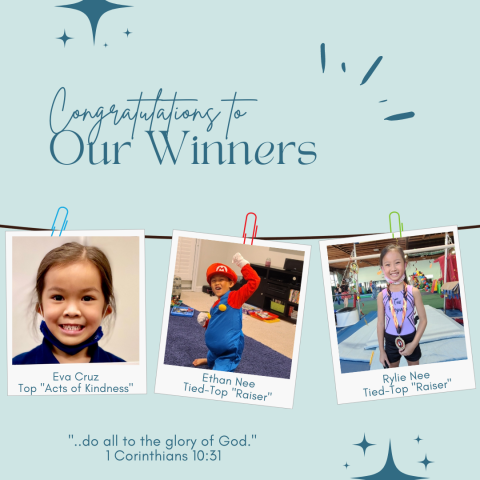 As stated on their website, Raise Craze is an online fundraising platform fueled by acts of kindness. This unique concept is breaking down the barriers of the traditional fundraiser and putting kindness back into our culture.
This was a concept SGAE couldn't resist. A fundraiser built on kindness, an opportunity to partner with the school's existing "Partnering for Eternity" Scholarship Program, a chance to impact the community, and funds to enhance student experiences? It was a no-brainer.
During the three-week fundraiser, students committed to individual, class-wide and school-wide acts of kindness. Students weren't shy about their acts of kindness; they found opportunities to be kind everywhere, whether it was mentoring another student, thanking a teacher or pastor, or even organizing a campus clean-up.
The initial $10,000 goal for the fundraiser was surpassed many times over—concluding with a total of $44,297! "This fundraiser reframed our 'Why' of fundraising," Gorospe noted. "Yes, we have goals of campus upgrades and additional afterschool programs, but more importantly, we pursue these things in order to better serve our students and their families, and to give them the opportunity to experience the benefits of what a life of service truly brings."
"In addition to supplementing our 'Partnering for Eternity' Scholarship Program, money raised has been used to upgrade our campus by contributing to our new play structure and landscaping and to enhance our afterschool programs, like quilting and acting/film," noted Gorospe. "We are also now able to hire a P.E. teacher as well as launch a robotics program for our elementary students."
***
San Gabriel Academy would like to express our wholehearted gratitude to our families and alumni who embrace our campus, our programs, and our students. We would also like to share special thanks to the families of our first-grade class—Mrs. Aitken and her first graders were an inspiration and raised more than half of our total donations! It's all a blessing that directly impacted our students and students to come.