"Today, as we review the history and the story of the Eagle Rock Seventh-day Adventist Church (ERC) for 100 years, we can say, 'God was here,'" shared Southern California Conference (SCC) President Velino A. Salazar at the 100-year anniversary celebration at ERC this summer.
"There are evidences that He has been here and He is still here," Salazar continued. "Praise be to Him. He has been the cornerstone of this spiritual building, His people—this is His church."
The church celebrated the milestone anniversary this August. The packed weekend kicked off with an interactive Friday evening vespers program. Sabbath was filled with activities, beginning with Sabbath School, followed by the worship service and an afternoon worship in music program, featuring songs from Eagle Rock Quartet, Jaime Jorge, BINHI, Christian Edition, and more. After the close of Sabbath on Saturday evening, members and friends gathered for a vespers and social. The weekend concluded with an international food fair presented by the Eagle Rock Pathfinder Club.
Throughout the past 100 years, God called 24 senior pastors to lead the congregation in serving the community. Membership continuously grew, with an unwavering focus on families and youth. By hosting a soup kitchen, the annual National Night Out, and many more such events, ERC has lived out its commitment to serving the community.
"The Eagle Rock church has been a lighthouse in this community, providing hope to those without hope, giving love to the marginalized and the underserved people in this community," Salazar noted.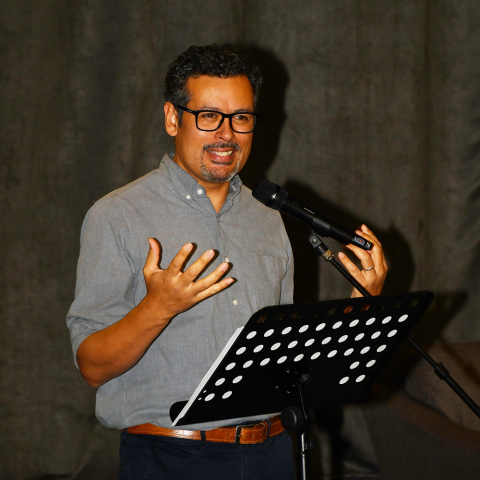 During the Sabbath morning program, Dr. Herb Harder, ERC's longest living member, told of his memories since joining the church in the fall of 1950. Harder's woodworking handiwork can be found throughout the church, including the offering plates that are still used today.
Many of the youth also reflected on their experience at the church. "Everyone just seems so close together," Victoria Santos shared. "Even though we're not related, we feel related and we feel at home."
Brad Newton, Pacific Union Conference president, shared the morning's message, entitled "The Great Homecoming." Newton anchored his message in Philippians 3:12-14, focusing on the importance of both remembering and forgetting. "God has had His hand in leading this congregation—I don't have any doubt about it and neither do you," he noted with a smile. "Anniversaries have a power to fill us with purpose as we look from the past and look toward the future."
View livestreams of the weekend's programs on the Eagle Rock church YouTube channel at https://www.youtube.com/c/EagleRockSDAChurch.
 
Watch the video highlight below: