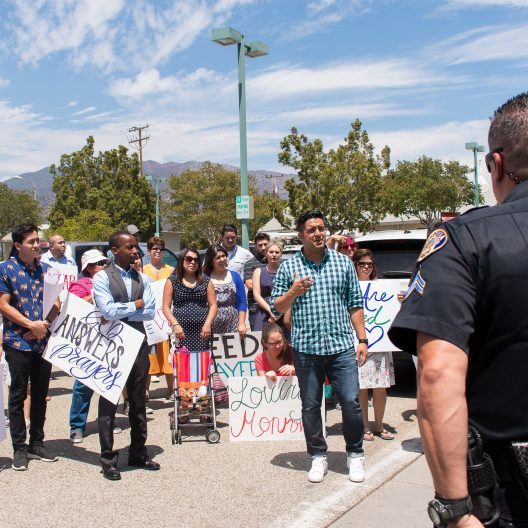 With tensions running high, these are trying times for law enforcement and American citizens alike. Amid growing divisions and constant violence, a number of SCC churches and at least one Adventist school have reached out to local precincts in recent months.
At midnight on July 7th, the day that five officers were shot in Dallas, Texas, Manny Arteaga, senior pastor at Kalēo church in Monrovia, texted the intern and head elder at his church. "You know what?" he wrote. "I'm dumping my sermon." Then he explained his idea to host a Love Walk that Sabbath, when the church would take to the streets to pray for families, the city and law enforcement. The leaders were immediately supportive and spent the next day preparing. Arteaga also invited All Nations church, which is located less than a mile from Kalēo, and they joined in the walk.
"
The way to stand up against everything going on is through love.
Manny arteaga, pastor at kalēo church
The morning's Sabbath service included a baptism, worship songs and a five-minute message centering on the text, "Perfect love casts away all fear" (1 John 4:18) before members headed out. The Monrovia Police Department was the last stop on the walk, where they prayed for city leaders and shared a brief message about their mission of love. "This was not a pro-cop or anti-anything march," said Arteaga. "This was not taking sides. As cheesy as it may sound, we just wanted to be agents of love in the community in a week that was horrible. I said, 'Bring tennis shoes. Be comfortable. We're going to be the sermon this time.'"
The next day, Central Spanish church hosted a health parade as part of Vacation Bible School and invited the Rampart Police to walk with them. "I think it was a good experience for them, for us and for the community," said Enoc Calderon, senior pastor. Tom Jones, Rampart police chief, assisted in closing down the streets for the parade, walked with church members and shared his support of the church's community outreach. "In this way, we break some barriers, and we start building more bridges between the community and the police department," said Calderon.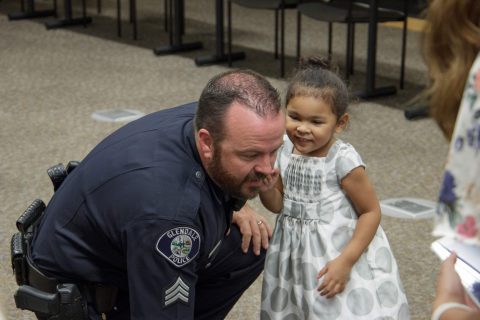 A few weeks later, on Sabbath, Aug. 6, Glendale City church and Glendale Academy brought lunch to the Glendale PD and spent some time with officers. Church members and city businesses, including Two Guys from Italy and Porto's Bakery, provided food and beverages. "The message that Glendale City church wanted to send to the Police Department was that we're eager to be involved in any way we can to help provide ways for the church to help out with community events and make our city one of the best cities in the country," said Dave Ferguson.
Other events included a special Sabbath morning service to welcome and pray for the local Hollenbeck Police Department at Spanish American church. Eagle Rock church honored local CHP and LAPD officers at their annual National Night Out Block Party on Aug. 2. On Sept. 24, the Downey church had an open house, themed "Faith Unites for a Peaceful Community," in which the pastor and other leaders offered a special prayer for the Downey Police and a donation to their police association.
"The way to stand up against everything going on is through love," Arteaga said. "The only way fear is going to be quenched is through love."