Last fall, Royal Harrison, Greater Los Angeles Region (GLAR) director, dedicated the Htee Mae Wah Khee School (HMWKS) in Myanmar. The creation of the school is a part of the initial phase in GLAR's new mission to go from "Greater to Global."
Harrison was inspired after reading in the Pacific Union Recorder about a church member doing ministry in Thailand. "I could hear the Holy Spirit say, 'GLAR needs to be involved in the global mission field,'" Harrison recalled.
As a good steward, Harrison packed his bags and traveled to Thailand to assess the needs of the people there. Once on the ground, he quickly identified an avenue through which evangelism could take place in this dominant Buddhist country: education. Excited at this new opportunity to win souls for Jesus, Harrison shared with his region committee what God showed him.
With God's leading and the approval of the region committee, the work soon began. The chosen location for the school was Htee Mae Wah Khee, about 20 minutes from Myawaddy, a town in Southeastern Myanmar close to the border of Thailand. The doors of the school were opened last July, with 44 students registered. One local church member said, "I'm so glad there is an Adventist school in the community to send my son to, so we can be in an environment of believers."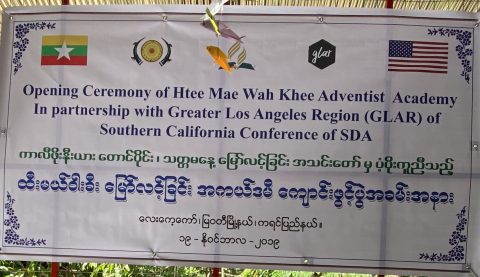 Over 200 people came to the dedication ceremony, which featured a local marching band and Karen traditional dancers. Harrison read a letter from Velino A. Salazar, Southern California Conference President, who, along with the executive committee, gave their blessing to the direction GLAR was headed.
Village leader, Pattaya, was also present. "I did some research on Adventist schools, and I knew I wanted to have one in the community," said Pattaya in his speech at the ceremony. "I know the positive impact the Adventist [community] will have on our children and on each one of us." Pattaya was such an advocate for the school that his daughter has been enrolled since its opening in July.
HMWKS offers free education, free transportation, Bible teaching, and an English language program for students. On Sabbath, the school is used as a church for students, parents, and community members who want to worship. In addition to providing education, the school has created jobs for some graduates from Myanmar Union Adventist Seminary.
 "Since we decided to go global, I have seen God leading in so many ways," said Harrison, "but especially with ADRA's announcement of their every child everywhere in school campaign." Harrison and his team were determined to provide opportunities for children to have access to a better life. "What better way to fulfill that," he continued, "than by giving them an Adventist education?"
God is leading the church to reach people and communities around the world!