November 6, 2018
Greetings from the NAD headquarters in Columbia, MD, where Elder John Cress and I are attending the 2018 NAD year-end meetings from November 1-6. The reports and the conversations have been encouraging and have fostered dialogue on how to be more relevant to our mission in North America. If you are interested in reviewing the proceedings of these meetings, visit: https://www.nadadventist.org/news/2018-nad-year-end-meeting-video-coverage.
This gathering makes me recall when the early Christian church received reports on the expansion and growth of the Kingdom of God among the Jewish and Gentile communities. Those reports also created concerns, questions and dialogue. And the beautiful finale was an agreement which did not limit the growth of the church but enhanced and promoted its global mission (Acts 15). I pray that we keep this same attitude as we share the Gospel of Jesus Christ in Southern California.
The weekend of October 19-21, the three Adventist hospitals (Glendale, Simi Valley and White Memorial) in SCC had the opportunity to renew their mission, vision and values during their annual Board Retreat. Esther and I were blessed as we interacted with these wonderful people, determined and committed to advance the healing ministry of Jesus Christ, even though some are not of the Adventist faith. We praise God for these fellow Christian partners in this ministry.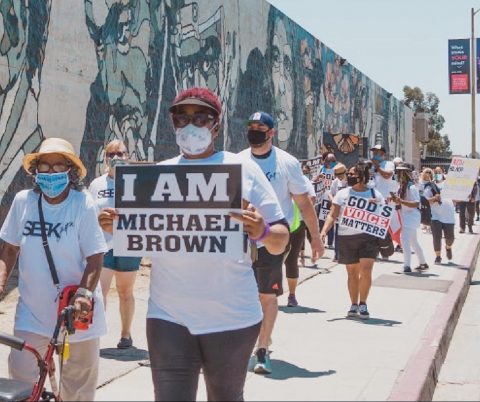 The West Region (WR) Elders Training took place for three consecutive Sabbaths ending October 20. Almost 130 of the local leaders from all WR churches met at Camarillo, Canoga Park or Lancaster churches to participate in this annual orientation to become acquainted with this ministry role as elders. Elder Greg Hoenes, West Region director, and his pastoral team conducted the ministry presentations.
Our SCC Office had its Fall Week of Prayer October 22-25, and the theme was Jesus in the Book of Revelation. Thank you to pastors Todd Leonard, John Aitken II, Peter Baptiste and Adam Hicks for your messages lifting up Jesus as the Faithful Witness, the Conquering Savior, the Compassionate Judge and the Victorious King. We were blessed.
Our deep condolences for the Armstrong and Hoenes families. The last weekend of October was a very difficult and sad one for Elder Greg Hoenes as he lost his father on Saturday morning, and for Lauren Armstrong, SCC Communication director, who lost her grandparents just two weeks apart. Please keep these two beloved families in your prayers as they grieve their losses. We are so grateful for the Hope we share to meet our loved ones again on Resurrection Morning.
On Sabbath, October 27, the White Memorial church celebrated their 100th anniversary. In 1918, this church came into existence to complement the holistic healing ministry of the White Memorial Hospital in the growing community of East Los Angeles. Since that time, this church has been a refuge for so many hurting souls and a beacon of light for those seeking hope and peace. Kudos to this church and its pastors, Benjamin Del Pozo and Kevin Morris, for their devoted ministry in their community.   
Your fellow traveler,

Velino A. Salazar
President
Southern California Conference
---
November 20, 2018
Thanksgiving Day is this week, and as we approach this meaningful celebration this year, our hearts are torn. Yes, we have so many reasons to be thankful to God, to our family, to our community, to our country and to our church; however, we are still hurt and sad.
As you know, within the last two weeks, we have witnessed such intense tragedies that our hearts ache for the pain of so many people in our Southern California conference area. First, the shooting in Thousand Oaks left dozens of families devastated by the loss of loved ones. The next day, the Woolsey Fire started and spread quickly to other neighboring towns leaving hundreds without homes and some dying by the fires. May God help us cope with this adversity and help those in need. I invite you to visit https://scc.adventist.org and participate in helping others.

I pray that we can have the same attitude the apostle Paul had toward the adversities we face in life. In Romans 8, we read: "35 Who shall separate us from the love of Christ? Shall tribulation, or distress, or persecution, or famine, or nakedness, or peril, or sword?... 37 Yet in all these things we are more than conquerors through Him who loved us. 38 For I am persuaded that neither death nor life, nor angels nor principalities nor powers, nor things present nor things to come, 39 nor height nor depth, nor any other created thing, shall be able to separate us from the love of God which is in Christ Jesus our Lord."
On November 7 at 7 a.m., I attended the Glendale Give Thanks Community Prayer Breakfast where many of the Glendale religious, educational, medical and civic entities join every year to pray for this city, its surrounding communities and this country. Currently, Pastor Todd Leonard (Senior Pastor at Glendale City church) is the president of the Glendale Religious Leaders Association. This event gives us an opportunity to interact with other entities and collaborate for the betterment of our communities, and for them to know more about the Seventh-day Adventist Church. Thank you, Pastor Todd, for taking this important role.

After 25 years paying a church mortgage, the Olympic Korean church dedicated their sanctuary on the afternoon of November 10. Esther and I had the opportunity to join them at this memorable milestone, which concluded a long financial pressure on this congregation. After burning the mortgage document, the church treasurer announced that now the church will be able to invest much more money in evangelism. Kudos to Pastors Sun Hwa Hwang and Young Rin Kim for leading this church into this new chapter.
That evening, we attended the GLAR Black and White Gala at the LAX Renaissance Hotel. This elegant annual three-fold event gave the opportunity to 1) raise $18,000 for Christian education; 2) recognize Philadelphian church as the Church of the Year and Pastor Eugene Hamilton as the Pastor of the Year; 3) recognize Eunice Winston, Canary Green (community service), Jamelah Stuckey (youth ministry), and Anthony Bailey (music), church members who have served and supported the ministry of the Greater Los Angeles Region. Thank you, Elder Royal Harrison, for setting aside time to recognize those in who are making the difference in GLAR advancing the Kingdom of God.
Last Sabbath, November 17, I dedicated the entire day to the Japanese ministry in the South Bay area. In the morning, we worshiped with 35 people of the newly planted church group for Japanese speaking people, followed by a fellowship meal with these wonderful people. In the afternoon, we participated in the East-West Language School 50th Anniversary. This is an amazing story of a unique mission among the Japanese community in Southern California that deserves a full article in the Recorder. So look for it in early 2019.
Your fellow traveler,

Velino A. Salazar
President
Southern California Conference