July 3, 2018
We just concluded our annual Pacific Union Conference Administrative Retreat in Indian Wells, CA. The four SCC officers joined the leaders of the seven conferences and two higher education institutions. We set aside this time from our routine work to be blessed by the ministries of our colleagues Leslie N. Pollard from Oakwood University and David & Barbara Sedlacek from Andrews University. The music ministry of Robin Shea and Logan Dickinson from Newbury Park was a special blessing as well.

In the quietness of Sabbath afternoon, I reflected on the invitation of Jesus to His disciples to "come and rest awhile" after their intense ministry in Galilee. Mark 6:30-32 describes that Jesus wanted to be with them in a private, solitary place with no distractions. Ellen G. White comments in the Desire of Ages chapter 38 that the disciples opened their hearts to Jesus and Jesus reaffirmed their faith in Him, preparing them for a future expansive ministry in the midst of the challenges they would face.

Oh, how we and our families needed this experience! We were exceptionally blessed! I invite each one of you to have this "rest awhile" experience from time to time. I'm sure you will be blessed as well.

Within the past two weeks, we had the opportunity to say THANK YOU in a meaningful way to two coworkers in the SCC office who are leaving our SCC family. Wonderful banquets, moving speeches, and the sharing of memories were the highlights of these two luncheons. Bethania Diaz, who has been our undertreasurer since 2013, has decided to return to the Sacramento area to be closer to her family who needs her at this time. Eunice Winston, the director of asset/risk management, has decided to retire after 34 wonderful years of ministry in SCC. Stay tuned for an article in an upcoming issue of the Recorder about the life and ministry of Sister Winston.

On Tuesday afternoon, June 19, I flew to Oakland to attend the retirement dinner for Elder James Pedersen, Northern California Conference President. After 41 years of ministry, he retires at the end of July 2018. For 20 years, four of our churches (Temple City, Glendale City, Oxnard, and Eagle Rock) were blessed by the faithful and committed ministry Pastor Pedersen and his wife Debi provided to God's people in our conference. I went to personally tell them how much we appreciated his ministry in SCC.

Last but not least, our SCC treasurer, Orville Ortiz, has reported to our administrative team that our net YTD tithe has increased 9.7 percent as of May 31, compared to the 2017 YTD. This increase has not been seen in many years. We praise God for such a wonderful blessing, and we thank you for sharing your faithfulness to God in Southern California Conference.

Your fellow traveler,




Velino A. Salazar
President
Southern California Conference
---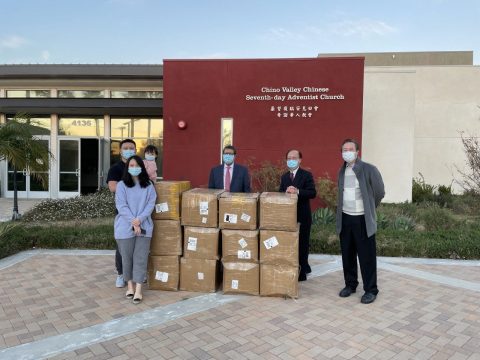 We celebrated Independence Day the week before last. This year, the holiday was midweek, and it wasn't so convenient to take a very long weekend, but here at the SCC office, we enjoyed it anyway. That evening, my family joined another family and went to the Rose Bowl golf park and enjoyed watching the traditional fireworks.

As we commemorate this event every year, have you thought about the effect this festivity has in your daily relationships?

As an immigrant to this country, I have adopted this celebration, not just to have free time and fun, but to seriously meditate on the following:
I need to remember the intentional sacrifice made by the founders of this nation so every person within its borders could enjoy freedom and democracy.
I need to recognize that the convictions of these forefathers were so deep in their hearts that nothing and nobody intimidated them from pursuing their ideals.
I need to respond when I witness abuses toward the disadvantaged, the most vulnerable people or any person in the society I live, and I must protest to stop such injustices.
I need to responsibly retain the privileges that I enjoy today by passing their value to the next generation.
I hope and pray that you also have had the opportunity to reflect on this great blessing of living in a country that still respects our individual rights, privileges and opportunities.

The Sabbath of that week, Esther and I had the opportunity to worship with our beloved Antelope Valley church members. After the church service, I gave the opportunity for Q&A with members who had questions or wanted to share concerns with me as conference leader. That conversation was very insightful for me and I think for the members as well.

Then we were invited for a fellowship meal with members and their pastor, Elder Morris Barnes. What a great time we had with such wonderful people. I was delighted to hear members share their stories, like one from a person who worked closely with Dr. Martin Luther King, Jr., when the Civil Rights Movement was at its climax in the 1960s. (Watch for her inspiring story in a future issue of the Recorder.)

On Sabbath, July 14, 2018, we had the opportunity to visit the Community Adventist Fellowship church in Pasadena, where Elder Justin Lawman is currently conducting two-week evangelistic meetings. (Elder Lawman pastored this church from 2005-2009 before returning to Australia, his home country.) We were delighted by his inspiring and uplifting message.

It was pleasant to see the members excited about sharing the Gospel with family and friends who were invited to join them during these meetings. That Sabbath day, the congregation had three meetings where members and visitors enjoyed dynamic and Christ-centered messages highlighting our distinctive beliefs as Seventh-day Adventists. Let's keep this congregation in prayer as they go into their second week of this outreach for Christ. Thank you, Elder Lawman, for coming to our "Macedonian" territory and helping us to share the Gospel of Jesus Christ.

Blessings to all my friends,




Velino A. Salazar
President
Southern California Conference