"The apostles gathered around Jesus, and told him all that they had done and taught. He said to them, 'Come away to a deserted place all by yourselves and rest a while.' For many were coming and going, and they had no leisure even to eat. And they went away in the boat to a deserted place by themselves." (Mark 6:30-32, NRSV). What? Not time to even take a lamb chop in a couple of slices of wheat or barley bread with goat cheese and olives, with a cup of grape juice? Wow! Those disciples were really immersed in and focused on their mission. So, Jesus invited them to stop for a while and rest. They needed to switch gears and regain energy to continue their ministry. Many of us need this type of break to reflect on our work, to refresh our mind and to recharge our soul after we have been with Jesus alone.
Before going to that retreat, that Sabbath afternoon I attended the memorial service of a genuine Christian leader: Alberto Basanta, Glendale Spanish SDA Church elder. After three years of battling a brain tumor, he slept in Jesus, demonstrating an example of courage, hope, faith and love. He and I talked several times about his situation, and always he exhibited Christian maturity; he never demonstrated any type of complaints or resentments against God for His condition. Beto, we'll see you in the Morning! Let's keep his family in our prayers.
For the first time, after 22 years of being an American citizen, I was chosen to serve as a juror at the Los Angeles Superior Court. Since my first day in jury duty, i was taken a part of the jury panel. It was very enlightening to observe how the court of law works in the American justice system. I'm glad I exercised one of my civic duties by serving as a juror for seven days.
On Sabbath, January 26, Esther and I had the opportunity to worship with the members of Community Adventist Fellowship at their new location at 695 W. Sierra Madre Blvd., Sierra Madre, CA 91024. Two Sabbaths before, Elder James Lee worshiped with them as well. These facilities are more suitable to the ministry of this congregation, and after worship, the members visited the surrounding community to let people know about their presence in that neighborhood and their plans to serve that community. Blessings in their new adventure for the Gospel of Jesus Christ.
After a week of meetings of our Adventist Health ministry in Carlsbad, CA, last Sabbath I visited the Pico Rivera Bilingual Church. Even though it was pouring rain, most of the members decided to worship at church instead of at home. That morning, the church leaders did something I had never experienced before. During the family prayer time, my wife and I were called to the platform, and they prayed specifically for us. This was meaningful and encouraging. Thank you, dear brothers and sisters, for this gesture of love and support for our ministry. Keep us in your prayers as we are keeping you in ours.
UPCOMING EVENTS:
Adventist Education Summit: The SCC pastors and teachers will convene on Tuesday, February 19 from 8:30 a.m.-3:30 p.m. at Glendale Adventist Academy to address how to enhance these both ministries in our conference.
State of the Conference: Right after this meeting, in one hour (3:30-4:30 pm) the SCC Officers will present the annual report of how the Southern California Conference has done and what key changes have happened or will happen in 2019. This section has been added in order to eliminate another trip for the SOTC at the end of this month, as the SOTC was originally scheduled for February 26. So, pastors and teachers, please plan accordingly.
65th SCC Constituency Session: This important meeting will be held on Sunday, September 22, 2019, at the White Memorial SDA Church from 7:55 a.m. to 1 p.m.
Your fellow traveler,

Velino A. Salazar
President
Southern California Conference
---
February 19, 2019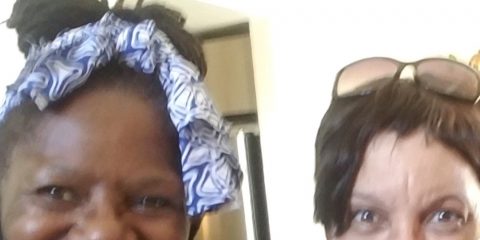 One of the great opportunities we have in February is the celebration of Black History Month. For me personally, this occasion has been very instructive and insightful. In recent years, I have been reading books and watching movies/documentaries on this subject, but I didn't find something in connection with the Seventh-day Adventist Church until I read the brand-new book "Protest and Progress" (PICTURE) by Dr. Calvin Rock, former GC Vice President. I also found the website blacksdahistory.org by Benjamin Baker, Ph.D., currently contracted by GC Office of Archives, Statistics, and Research. Both works are awesome, and I highly recommend that you read them. I can say that I have grown — not just in knowledge, but also in my understanding of this subject matter.
I will dare to say something that I'm fully aware I may be criticized for, but I'm choosing to risk being criticized for saying it than for not saying it.
Since the Southern California Conference is a very diverse community of believers, I consider it imperative for every employee (not just ministers) to be more informed about this heinous portion of history we have seen as Americans and SDAs. We definitely cannot change the past, but I'm convinced that we can learn a lot from it to avoid making the same mistakes. On this topic, Ellen G. White is very clear in her book "The Southern Work" and other references.
On the other hand, the current climate in our country demands that we become conscientious and sensitive toward this topic of diversity and inclusiveness.
The first week of this month, I attended the annual NAD Conference Presidents Retreat in Palm Springs. This event has a three-fold purpose:
Provide professional orientation in areas pertinent to our roles as Executive Officers
Foster the fellowship and camaraderie with others church administrators who face similar challenges in church leadership
Seek counsel about church organization from others who have more experience and look for new ways to approach challenges in church management
During the second week, we met to prepare for our upcoming Executive Committee meeting on the 20th. The two major items were finances and education. 
On a personal note, this past weekend, Esther and I traveled to Mexico City to celebrate my mother's 90th birthday. I want to say how grateful to God I am for the blessing of having a God-fearing mother who was devoted to passing the SDA Christian values to my brother and I. Since she accepted wholeheartedly the SDA message 70 years ago, she also embraced a few American customs that the American missionaries took with them, such as Corn Flakes and oatmeal with raisins for breakfast and baked casseroles for lunch on Sabbath — replacing my chilaquiles, huevos rancheros, and chiles rellenos. (I'm not complaining, just highlighting the impact of the missionaries in our daily home lives.) She has been a devoted Christian lady, a pastor's wife, who took care of a couple of rascal sons who by the grace of God now serve His church. Thank you, Lord, for my mother!
UPCOMING EVENTS:
65th SCC Constituency Session: This important meeting will be held on Sunday, September 22, 2019, at the White Memorial SDA Church from 7:55 a.m. to 1 p.m.
Your fellow traveler,

Velino A. Salazar
President
Southern California Conference