December 4, 2018
During the Thanksgiving weekend, my family and my brothers went to Mexico to celebrate our father's 90th birthday, along with some of his cousins who are still alive. What a wonderful experience we had as a family expressing our gratitude to God for our parents and grandparents (also Seventh-day Adventists) and for what they did for us, especially passing to my brother and me the Christian values in the context of the Seventh-day Adventist faith. Following our parents' example, we also are doing the same with our children. We are thankful to our parents for their example, and we praise God for them.
This process of teaching about God and passing faith values reminds me of the instructions God gave to Moses in Deuteronomy 6:2, 6-9: "that you may fear the Lord your God, to keep all His statutes and His commandments which I command you, you and your son and your grandson, all the days of your life, and that your days may be prolonged… And these words which I command you today shall be in your heart. You shall teach them diligently to your children, and shall talk of them when you sit in your house, when you walk by the way, when you lie down, and when you rise up. You shall bind them as a sign on your hand, and they shall be as frontlets between your eyes. You shall write them on the doorposts of your house and on your gates."
What a great task and sacred responsibility the Lord has given to parents and grandparents. May the Lord help us all to do our best for passing this spiritual heritage to our children and grandchildren. I invite you to keep praying WITH your children every day; I invite you to look for allies to help you passing these spiritual values to them. Our Christian Adventist school teachers and the Sabbath School teachers are those allies who we can count on.
This is the right time to start making plans to enroll or re-enroll your children in any Seventh-day Adventist school, academy, college or university. Should you have any question or concern in regards to how to finance Adventist Christian education for your children, please contact our SCC Office of Education (818-546-8451), and they will help and guide you with this matter.
Our children matter! Let's take them with us to Heaven!
Your fellow traveler,

Velino A. Salazar
President
Southern California Conference
---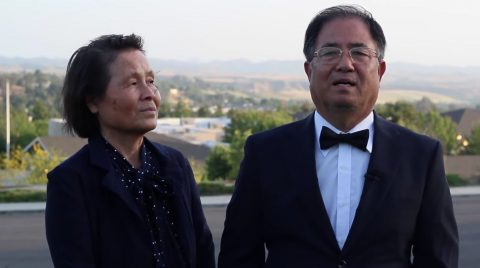 December 18, 2018
The Christmas season usually begins the day after Thanksgiving and retailers attempt to guide our thoughts toward the commercialization of Christmas. However, the only way that we can avoid falling into this commercial emphasis is by dedicating time in our devotional life to reflecting on Jesus as the baby of Bethlehem. Ellen G. White encourages us in the Desire of Ages, p. 83, to spend a thoughtful hour each day reflecting on the life of Jesus and the sacrifice He made for us when He came to this earth. During this seasonal celebration, let's remember the gift received from Heaven in the person of Jesus Christ, the Savior of the world, and renew our loyalty to Him.
Congratulations to the newlyweds Lauren Armstrong and Ryan Lacson, who got married on Thanksgiving weekend. Lauren is our SCC Communication Director, and Ryan is a Bible Worker serving in Pasadena. We wish you the most abundant blessings of God in your marriage. "With Jesus in the family, happy, happy home."
On December 1, I joined our Glendale Filipino SDA Church family for worship, and the Christmas atmosphere was already there: the music, the decorations and the beautiful spirit in the sanctuary. Before my message, teenager Christian Sacapano shared the children's story, and it fit in perfectly with my message in its spiritual application.
The next day, Esther and I participated in the Asian Pacific Region Christmas Dinner. We really enjoyed this beautiful gathering along with our pastors and their families and with the Region Committee members and families. We had fun with Kevin Camato's humor as MC, and Pastor Pliny Fondevilla's tricks made us laugh a lot. Thank you, Elder and Mrs. Sam Lee, for the gracious treat you had for the region team.
On December 8, Esther and I celebrated the 10th anniversary of the Malibu SDA Group. Elder Lonnie Melashenko was the keynote speaker, and the police and fire department workers were recognized for their outstanding work during the fires last month. Judith Miranda and her husband, Job, planted this congregation after knocking on doors in the upscale community of Malibu for seven years. Now, 25-30 believers meet every Sabbath at the John L. Webster Elementary School.
Last week, our Conference Executive Committee met and received preliminary year-end reports from various departments and regions. Here are a few highlights:
• YTD Baptisms & Professions of Faith: 880
• Current membership: 40,555
• YTD Tithe increase as of October 31: 4.65
• Hispanic Region Reported a recent evangelistic initiative: "Incarnational Mission" meaning to go to the community to meet its felt needs, instead of the community coming to church to supply their needs.
• Update on Denominational Policy Compliance by SCC (more information soon).
Last Sabbath morning, December 15, my wife and I worshipped with the Culver City SDA Church members, and we were blessed. Entering into that building brought back many fond memories of 30 plus years ago when we pastored the Culver City Spanish church, which had a wonderful ministry relationship with the English church. I was installed as pastor of the Spanish church in 1986 and ordained as a pastor there in December 1987. What a privilege to baptize many of our members there in that baptistry.
Thank you to Pastor Callie Williams and his wife, Yvonne, for the lovely hospitality you and your multicultural church members shared with us. We really felt at home.
Your fellow traveler,

Velino A. Salazar
President
Southern California Conference